The BGN News Archive
September 27, 2021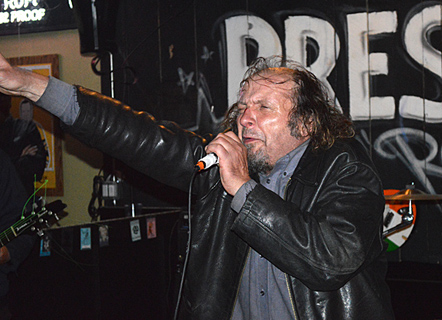 Larry Lifeless
Larry Lifeless died this week. Larry was the center of the raging sound bomb called Kilslug and later Upsidedown Cross and he was legendary!!
Kilslug made people uncomfortable and that was the idea. You knew, even if you couldn't hear the words, that Larry was questioning everything you believed. We saw Kilslug at Jumpin' Jack Flash in the 80's. They sounded great, incredibly intense, like something bad was going to happen....and the club cut the sound and turned off the lights. Why? We never really found out why … but that's the kind of effect they had and in particular Larry!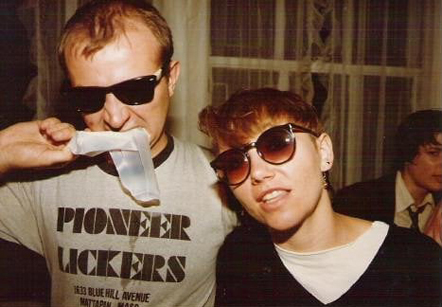 Larry Lifeless and Miss Lyn
If you talked to him he was very nice. He was married and had a few children and grandchildren. But when he got on stage he seemed like he was the center of a cyclone of controversy, he was possessed.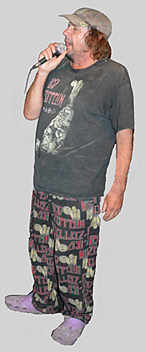 We last saw him two years ago at the Middle East down with Flipper. then there was the Kilslug reunion at Church in 2007, and at All Asia in 2008 when Larry had a black eye, scrapes on his face and possibly a broken nose. Larry sang with his head out the front window of the club to the passersby on Mass Ave. Then there was the October 2016 gig at Club Bohemia when Larry wore Led Zepplin pajama bottom and purple crocs, or at The President's Rock Club in 2014 when Larry was in rare form!!! Way back in the early days it was rumored Larry bit the head off a chicken on stage. So the BGN did a photoshoot with the band in Chinatown. We bought a chicken but Larry didn't bite it. We returned it and got a refund! Got some great photos though!!
You should read Kenne Highland's wild memories about Larry in his column this week too!! Kenne at Large columm.
So, this week ... We finally got to the Once at Boynton Yards. It's tucked away in a side street near Union Square. It's basically a parking lot set up with an outdoor stage. Some cons...no shade, none, so if its sunny you have to just deal with standing there with sun beating relentlessly down on you, but hey maybe that doesn't bother you. The other con - no chairs...you can bring your own! so that's a pro.
Everything is in a shipping container and that seems to work fine. There's food and drink available also in shipping containers. JJ Gonson obviously was motivated to keep the music going ... and she has! Kudos JJ!
| | |
| --- | --- |
| Linda Viens | Girl With a Hawk |
We got there mid-Girl with a Hawk set. That's Linda Viens' new group with Lee Harrington on bass. The songs were all above par. It's always awe inspiring to hear Linda's voice. In one way it doesn't matter what she sings, just the voice alone does so much. They did one cover, Tom Petty's "American Girl"
Black Helicopter was up next. They sound thick and abrasive. You can make a Mission of Burma comparison. We've seen them a few times, the last time was at the Hong Kong in March of 2020, just before the coronavirus shutdown.
| | |
| --- | --- |
| Black Helicopter | Black Hellicopter |
They're a trio but the sound seems so full. The guitarist seems to add some dissonance and simultaneously play some more harmonious parts.
Hearing them outside also made a difference. In a club their sound always seemed more dense and menacing. In the open air we noticed the propulsive rhythms more and could make out the song structures. It was rewarding that way.
The Once sound system seemed to do a good job.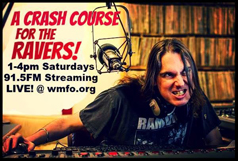 Crash Course for the Ravers is back! On Saturday Oct 2 the radio show is back on from 1 to 4 pm on WMFO 91.5 FM. Brian Young did his show on another outlet for a while but held off doing a prerecorded show. Now the restriction are lifted and the DJs can get back to the studio. You can listen online if you are out of the broadcast area https://www.wmfo.org/
The Zulus are coming back!! They will play another show at the Paradise on June 18, 2022 ... and ... they are now a "living breathing band" and will write new material. Get your tix now, with an early $20 price tag
And the Hong Kong is back too!! They've started posting their up coming shows again .. finally! Read it on their FB page and below in the Gig Listings. They've got KCUF record release, High Five the Birthday Boy, This Is Not Okay, C.U.M., Pleasure Coffin and Black Beach, Bummer Camp, Today Junior in October. Bring your Vax card and a mask- they are required!!
Somerville Porchfest is also back!! October 2 is a busy day for music, loads of good gigs...start early with porch fest.. check the website for locations and times but they have Linnea's Garden, Bunch of Jerks, Death Pesos, Tysk Tysk Task, Black Souls. Here's the website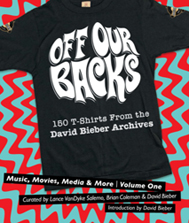 David Bieber delved into his archives at the Norwood Space Center and come out with Off Our Backs, 150 T-Shirts from the David Beiber Archive, a book of 150 T-shirts. The t-shirts have a lot of nostalgia and historical value. He has the Mitch (Rat door man) shirt in the book.
There is an article in the Boston Globe. (If you don't hit a paywall) Order the book and read more here
In a measure of his stature in rock, David Johansen is getting a documentary about him and at the helm is Martin Scorsese! it will air on Showtime. Not too shabby.
The NY Dolls were a turning point for rock and Johansen is the last man standing from that group. He also has a later career with Buster Poindexter and The Harry Smiths ... and he's still going. The story is on Deadline website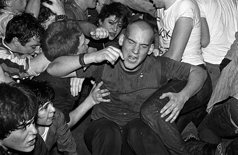 In My Eyes: Jim Saah Photographs 1982-1997, is a new photo book coming out in November about the Washington, DC punk scene. There are hundreds of previously unseen photos of Minor Threat, Black Flag, Cramps, Circle Jerks, Government Issue and more, by DC native Jim Saah. Read more and see some sample photos on the Brooklyn Vegan website You can order the book ($53.00) here
And ... a reminder to be careful out there friends!! The three day Electric Zoo Festival in New York's Randall's Island was an outside event requiring proof of vaccination but they still reported 16 Covid cases afterwards. It's estimated that there were tens of thousands in attendance. On Twitter there were rumors of someone with a fake vax card who had Covid symptoms. That was not confirmed. and then there were 203 cases of Covid connected to Lollapalooza in Chicago last month. Damn when will it stop??? Read more on the Gothamist
---
SHORT CUTS.....
Lou Mansdorf at Rum Bar Records made a big boo boo this week. Let him say it, "I accept defeat and all responsibility for not backing up the past 7 months and wiping my hard drive clean of everything pertaining to Rum Bar Records along with personal work and data." Wow, that sucks!!!
But Lou is not wallowing in despair. He keeps a bright outlook. "Please be patient we plan to get back up and running, backing up, and pouring up musical shots, full steam ahead." I mean, do we expect those Rum Bar releases to slow down? No way.
| | |
| --- | --- |
| Kings Road Punk | Anarco Punk |
This is not a very deep article on punk fashion but it does zero in on a few very distinctive punk trends that developed over the years: Glam, CBGB Punk, King's Road Punk, Anarcho Punk and Skate Board Punk. It's on the Red Bull website. We love the paper doll cut out illustrations!!
Julz Sale the singer and guitarist of the post punk group Delta 5 died this week. The story is in the NME
Richard H. Kirk, founding member of industrial icons Cabaret Voltaire, has died at age 65. Some more details on the Post Punk website
---
VIDEOS......
Just before punk, the music that rocked the most was probably Glam. There was that early punk transitional time when a lot of glam rockers transformed into punks. It's always been lurking around and recently with Gene Dante, Sidewalk Driver and others it's a current thing too.
Amplifier Heads have a new song and video, "Glamorama", that looks back at the heyday of glam. It charges ahead like a Sweet stomper. The video is full of glitter, platform shoes and Circus magazines!!
Stop Calling Me Frank have a very annoying video. It's actually annoying on purpose. It's to dramatize their song "I Did It Just To Annoy You". The bands spouses are probably very familiar with that phrase too. You have to go to Facebook to see this video...isn't that annoying? Facebbook video of SCMF.
The Rat Tales podcast also has a video side. The've posted the Mach Bell interview as a video. You get to see the gorgeous and legendary Mach!! It's done in a studio which is a nice step up from a Zoom vid from peoples rec rooms. You have to go to Facebook to view this video. Facebook Rat Tales Video.
---
PODCASTS......
Blowing Smoke With Twisted Rico talks with John Bionelli who has worked and toured with so many groups: Blackjacks, Del Fuegoes, Gang Green, Boys Life, Outlets, Band 19, the Bristols, now he's Aerosmith's road manager.
Near the end he talks about an Outlets project where they are going to resurrect an old film and somehow make something of it. That sounds intriguing.
Gene Dante did a podcast interview on City Wide Blackout.
They go over the last two singles and the latest video that Gene Dante and the Future Starlets have released. Gene reveals that the name of the new album DL/UX is pronounced Deluxe but actually is an abbreviation of Down Low/User Experience. Check out the podcast here
You can catch Gene & TFS at Koto with State Of the Union and Linnea's Garden on October 1st at Koto in Salem. FB page.
---
MUSIC/CDs........
Rum Bar's Cheep Cassettes have released a sweet Summer's over song. Every Summer should have a "Endless Summer Ends" signature tune that makes your heart ache a bit because that season where you traditionally get the most free time and best outside weather is over.
This one comes with a video too. And hey, is that bass player reading a Boston travel guide?
It's been a few weeks but we have now two more songs from Nat Freedberg's new aptly titles album Freeloader II.
The first 10 seconds of "Under the Influence" come swooping in like a group already cranking in mid-song. It then gears into a familiar Freedberg chord groove that we all recognize as his. And we love that familiar feeling.
Nat never disappoints. He's got the quality sidemen and worthy tunes. Following the Boston music scene means you know all this and just wait the new material like this to slot into your collection.
Freeloader will be doing an album release show at the Plough & Stars on October 23.
---
Here's some good shows coming up .....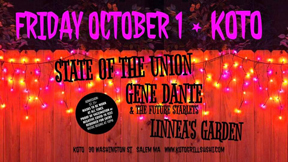 September 30 (Thursday) Shiny Beasts, Martin, Morell & Fredette and DJ sets by The Swedes Stampede w/ WMBR's Joanie and Sara J at Notch Brighton @ The Charles River Speedway 21+ [6PM] FB page.
September 30 (Thursday) Nervous Eaters/Barrence Whitfield/Willie Loco and the Boom Boom Band/Carissa Johnson at the Paradise . Get Tickets Here!
October 1 (Friday) Linnea's Garden, Gene Dante and the Future Starlets, State of the Union at Koto in Salem FB page.
October 1 (Friday) Kid Gulliver "Stupid Little Girl" Video Premiere & KISMET Album Release Party an online event. Check out the FB page and RSVP ahead of time.
October 2 (Saturday) Somerville PorchFest....loads of good bands....check out the website for locations and times: Somerville Porchfest.
October 2 (Saturday) Boston Rocks for Julie Duffy: Duncan Wilder, Heretix, Stomp Box, Sam Black Church, Only Living Witness, Tree at The Paradise - music starts at 7PM. FB page.
October 2 (Saturday) Oh the Humanity! record release show at O'Brien's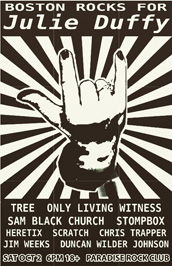 October 2 (Saturday) Linnea's Garden, Random Ideas, The Jacklights, Hyber at The Jungle FB page
October 2 (Saturday) Lyres, Classic Ruins, The Modifiers at the Middle East Up. FB event page Tix here.
October 2 (Saturday) Ramallah, End It, Sick Minds, Chaos Cross, and Last Sight - Brockton VFW all ages -7PM. Note!! Presale for this show is sold out. We will have approximately 50 tickets at the door. If you don't have a ticket, get there early. FB page.
October 2 (Saturday) Cape Cod Punk Rock Showcase featuring Dead Low, Neighborhood Shit, Cry Havoc, Working Poor USA, Worm at the Brewster VFW 989 Freemans Way. Starts at 6PM Facebook event page
October 3 (Sunday) Thalia Zedek, Andrew Cohen, Honey Radar at O'Brien's Pub
October 3 (Sunday) High Five the Birthday Boy, This Is Not Okay, C.U.M., Pleasure Coffin @ Hong Kong Harvard 8PM doors
October 5 (Tuesday)The Chops, Weatherworn, Louzy, Key of Caustic at The Midway
October 5 (Tuesday) What Famine, Tysk Tysk Task, Sidebody at The Jungle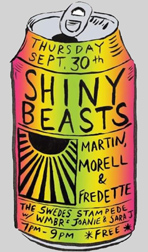 October 8 (Friday) Hardcore Stadium presents No Pressure, Koyo, Fleshwater, JINX, Crescent Ridge at the Middle East Up. All Ages.
October 9 (Saturday) Little Billy Lost, Peppermint Kicks, Bunch of Jerks at The Square Root FB page
October 9 (Saturday) Stubborn Hearts CD release party at News Café with The War in Kids and They Them Femme.
October 9 (Saturday) NE Ska Summit doc w/ The Copacetics and Riki Rocksteady at the Regent Theater Arlington FB page
October 10 (Sunday) KCUF record release, Time & Place + special guest at The Hong Kong 8PM doors.
October 10 (Sunday) Scurvy Dog Parking Lot Mega Show III with Hope Anchor (9:30 pm), Kepi Ghoulie (8:45 pm), the Worried (8:00 pm), the Hammer Party (7:15 pm), Disfellowshipped (6:30 pm), Black Sorcery (5:45 pm), Anxious Wave (5:00 pm), the Hi-End (4:15 pm), the Smoke Breaks (3:30 pm), Moodrunners (2:45 pm), Brown Apples (2:00 pm). WOW 13 hours of music!! FB page.
October 14 (Thursday) Black Beach, Bummer Camp, Today Junior at The Hong Kong
October 14 (Thursday) Ministry at the House of Blues. Tickets
October 15 (Friday) the Dogmatics and Gypsy Moths at The Magic Room. FB event page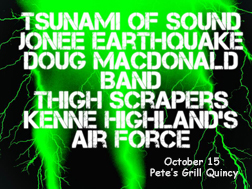 October 15 (Friday) Tsunami of Sound, Jonee Earthquake Band, Doug Macdonald Band, Kenne Highland's Airforce, The Thigh Scrapers at Pete's Grille Quincy. FB page
October 16 (Saturday) 2nd Annual Punktoberfest at Thirsty First in Lowell - The Welsh Boys, 45 Adapters, Brix'n'Mortar, The Only Things, Disco Volante, Diablogato, DNZL, Gripbite, Stoploss, Color Killer, Nick the Barbarian, Horsehands, Timmy Heist & The 456 - starts at 2PM!! FB page
October 16 (Saturday) The Cretins, State Of The Union, The Challenged, Rusty Things, DJ Chris Atwood at Bill's Bar Landsdown St by Fenway Park. FB page.
October 16 (Saturday) Magic Room in Norwood presents Smitt E. Smitty & The Feztones and Gene Dante & The Future Starlets FB page
October 17 (Sunday) The FU's, Arctic Horror, Give Up at the Midway - a matinee shows 3-7PM
October 22 (Friday) Brad Marino, Geoff Palmer and Kurt Baker playing 2 sets of hits from all their bands with The Dents in the middle. At The Square Root.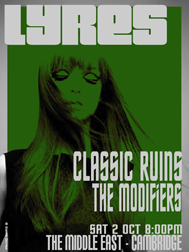 October 23 (Saturday) The Molly MaGuires, Modern Day Idols, The Hi-End, The Cast Irons at The Jungle

October 23 (Saturday) Freeloader Album Release party at The Plough & Stars on October 23

October 24 (Sunday) The Grommets, The Fatal Flaw, Girth Control, The Jacklights at The MIdway - a matinee show 3-7PM

October 24 (Sunday) Nervous Dater, Good Looking Friends, Tatoonie Punk Scene, Stubborn Hearts at O'Brien's in Allston

October 26 (Tuesday) Premature Ejack-U-Lantern 2 with Loser's Circle, The Blame Shifters, Squallie Greenthumb at The Hong Kong

October 29 (Friday) The Dents, Black Helicopter, Motel Black at O'Brien's

October 31 (Sunday) Dropkick Murphys At Hogan's Run again 7-11PM...best Tessie costume wins a free drinks bracelet for the night. FB page.

November 1 (Monday) YAY!! The Hong Kong is back!! Ignorantes, Wanted, G.R.I.N., The Massacaered, 4 Minute Warning,

November 5 (Friday) Shake The Faith (reunion gig!!) with Little Billy Lost at The Magic Room in Norwood. FB page. Here's a vid of Shake The Faith at the Channel 1989

November 5 (Friday) The Guns of Brighton return to the Breakaway in Danvers FB page here.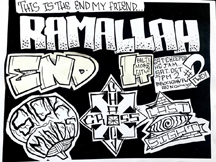 November 6 (Saturday) Mister Vertigo, Modern Day Idols, The Chelsea Curve, If We Go At All...8PM show at the Midway
November 13 (Saturday) Field Day (x-Dag Nasty), Moving Targets, Lenny Lashley's Gang of One at the Middle East Up TIX!!
November 13 (Saturday) Tsunami of Sound, U-ey at the Buoy at The Square Root
November 13 (Saturday) Hixxgiving X 3pm at The Midway Black Clouds, Hixx, Black 13 and Zagnutt - they are serving free food and they also are accepting food donations for local charities.
November 19 (Friday) Hardcore Stadium and Grayskull Booking Presents: Slapshot - Celebrating 35 Years of Hardcore Day 1- Stars & Stripes, Noi!se, COA, Patriot, Violent Way at Sonia - (already sold out!!)
November 19 (Friday) Joan Jet & the Blackhearts will be at the Chevalier Theatre in Medford Square. Tickets.
November 19 (Friday) Letters to Cleo are at the Paradise. Tickets here
November 20 (Saturday) Lurid Purple Flower, Verdegree, Motel Black, Shrink Ray at The Jungle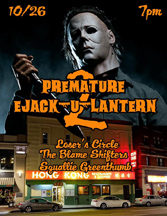 November 20 (Saturday) Hardcore Stadium and Grayskull Booking Presents: Slapshot - Celebrating 35 Years of Hardcore Day 2 -Slapshot, Sheer Terror, Death Before Dishonor, Pummel, Count Time - at The Middle East Down. (already sold out!!)
November 27 (Saturday) Jason Bennett & the Resistance, The Damaged, The Hagglers, & Chris Skel at The Middle East
November 27 (Saturday) Dinosaur Jr. at the House of Blues on Saturday Nov 27. Tix
November 30 (Tuesday) The Labor Pains, Disqualifier, Tensor, Bad Sandy, The Lost Boys at The Midway. FB page
December 3 (Friday) Kurt Baker, The Fatal Flaw, Dutch Tulips at The Jungle
December 11 (Saturday) The Hi-End, Watts, Freeloader - Middle East Up - starts at 12:30PM!!
December 18 (Saturday) Koto's Killer Kristmas Party with Marianne Toilet and the Runs, Fog Wizard, Dust Prophet at Koto Salem.
March 13, 2022 (Tuesday) Reigning Sound at the Sinclair Tickets: https://www.axs.com/events/402182/reigning-sound-tickets
March 31, 2022 (Thursday) The Parquet Courts are at the Royale. Tickets are here
April 22, 2022 (Thursday) Circle Jerks at the Paradise
CONTACT US AT....misslynbgn@yahoo.com Send us your gig listings, your anything else ya got!! You want your CD reviewed?? Contact us for that too.
---
---