The BGN News Archive
October 11, 2021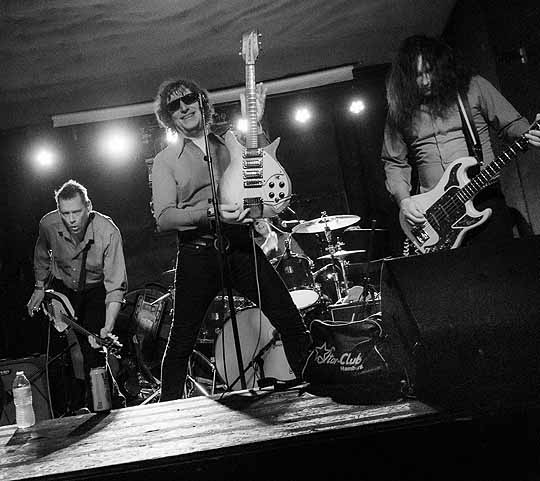 Muck and the Mires at Geno's
John Keegan hit Geno's in Portland, ME this weekend for Portland's own Tiger Bomb along with Muck & The Mires and The New England Mafia.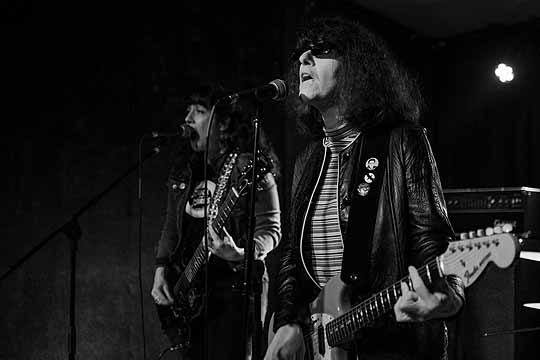 Lynda and Chris - Tiger Bomb
John talked with Tiger Bomb guitarist Lynda Mandolyn and she said that half the set was new songs written this last year. We've heard similar comments from other bands. Art was created this last year.
Their next album Sugar Buzz is already recorded and ready to be released as soon as a back-up caused by Covid problems straightens out.
Muck and the Mires have already played a few shows so they were ready to rock. They played "Take Me Back to Planet Earth" and "Zoom Breakup" from their latest album and the earlier "Caught in a Lie". John writes about the excitement they generate. You know you wanted to be there.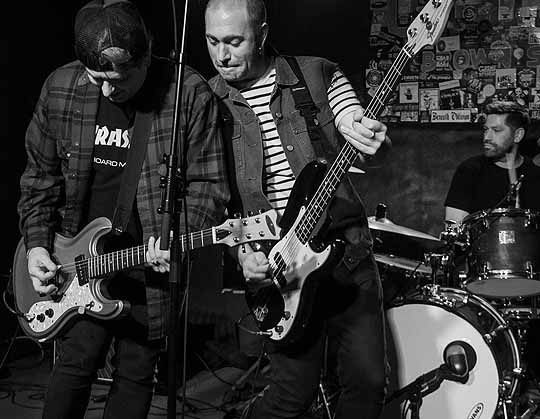 The New England Mafia
The New England Mafia is Kurt Baker, Brad Marino, Geoff Palmer and Zack Spraque. They divided up the songs between them. They could have played for days with the output that bunch has. Again we are going to let John explain the whole thing. There's more photos and more writing about the night on John's review page. To access hit the photo link below.

As the weather turns for chillier, Once has to end their outdoor shows at Boynton Yards ... but before they go there's one more show... an Octoberfest celebration on October 23, Saturday (3-9PM). It's FREE and all ages. (More info below and in our Gig Listing)
Then Once will "venue surf" until they find a permanent home. So far they've announced shows at the Crystal Ballroom at the Somerville Theatre and The Rockwell at 255 Elm St in Davis Square (the former Jimmy Tingle Theatre). And of course they are continuing with OVV - Once Virtual Venue
The Rockwell shows are on October 24 (Reality From album release ) and October 27 for Mall Cops, Daisy Bones and Layzi
The Crystal Ballroom is a Halloween show on October 31 Tickets here.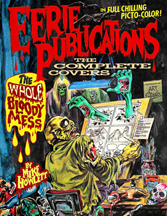 Mike Howlett of A Bunch of Jerks also is an author! He has several books dealing with Eerie Publications who had a line of horror magazines. Now, he has a new book which is a compilation of all the Eerie covers…and those covers are wild. EERIE PUBLICATIONS - the Complete Covers: The Whole Bloody Mess, will ship in February 2022, This giant book contains EVERY cover of EVERY Eerie Publication in full color and chronological order. Mike has included interesting and little-known facts along with each cover.
This is the horror comics fans' dream book!!! You can order the book on the Fantaco website
The Bush Tetras are releasing a career spanning box set on vinyl. Rhythm and Paranoia - The Best of The Bush Tetras will be available on November 12th. Here is a link. They are touring to celebrate the release. Sadly this past week the drummer Dee Pop passed away in his sleep. But the band plans to keep the shows going, as that's what Dee would want. They are at Le Poisson Rouge in NYC on Nov 13th. Our condolences to fans, friends, family and band members. There's a very informative piece in the Village Sun - click here.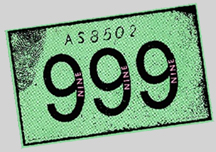 Another book, All Or Nothing : The Memoirs of a Drummer was published earlier this year. It's by Stewart Meadows over in the UK. He's been the drummer for Conflict, 999 and The Lurkers, Resistance 77 and English Dogs. He played drums for 999 when they toured the US in 2019. Considering the bands he's been in and the stuff he's been through this should be a great read!! You can order it at Punk Rock Drummer .com and The Book Depository has free shipping!!
SHORT CUTS......
Lynda Mandolyn and Lee Harrington will release a new single "Sweet Child" on October 20 on all streaming services.
I Am Not Gone II , the second Asa Brebner tribute album is getting closer to the finish line. Larry Newman is now lining up the artwork.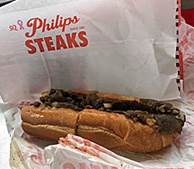 Staying away from planes on this vacation Joanie Lindstrom drove to Pittsburg taking including Wildwood, NJ and Philadelphia on the way. A few Bostonian artists have moved to Philadelphia for cheaper living and Joanie found much to like there. Pittsburg used to be a punch line but more and more people are finding its charms. Get some tips from where Joanie has done the footwork… Joanie's vaca page.
Henry Rollins will hit Boston on his "Good to See You Tour" Sunday March 20th. more info/links below in gig listings
A lot of us remember the Columbia Record Club where you would get regular shipments of hit records at a good price. Since then vinyl died and came back again. Money grubbers Amazon know a good thing and have started a Vinyl of the Month Club – the Golden Era. You get "an essential album" of the 60s or 70s a month. Really, it's better to go to a local record store now that we have a few around again. But it's a sign of how strong of come back vinyl has made! Amazon Club
---
VIDEOS......

Every week there's a new episode of Punk Rock Aerobics. Last week it began with an interview with Bill Janovitz of Buffalo Tom. Hilken Mancini then does her exercise stint using Buffalo Tom's "Sunflower Suit" for inspiring music. You learn three moves: The Plunger, the Transient Squatter and the Super Lunge and it's off to exercise. Hilken does a new video every week on Tuesday, Up this week she has "native american punk rockers" doing the music in honor of Indigenous Peoples' Day. Video is below.

You probably know Tommy White (Unnatural Axe and Beachcombovers) was on the pilot and first year of the highest rated kids show on PBS called Zoom.

Tommy says that "somehow led me into local music and working in video." He has just posted the first episode of his documentary-series "ZOOM- Lost and Found" on Youtube and he will be posting new episodes each week. The documentary details how the series evolved from an unwanted idea into an American pop culture icon. The Video is above.

Cold Expectations have a video for a new song titled "In the Padlocked Night". The song has a nice warm feeling to it. It has an easy groove and a 80s vibe. Steve Prygoda plays some underlying synth that colors the tune.

Like other Cold Expectations songs it seems simple but if you keep listening, and you can read the lyrics on Bandcamp. Some of the lyrics seem dark. Like what's a "lazy labored lake drag"? The video successfully captures a night time mood. We recognize that bridge over the Turnpike on Mass Ave near Berkeley. See the video below

Billy Idol rises again with a four song EP titled The Roadside, with his longtime guitarist and cowriter, Steve Stevens. Here's a video for one song "Bitter Taste". It has a lot of the Idol trademark moves, maybe sounding a little less hard but more experienced.

The lyrics talk about leaving him by the roadside and the last shot shows him lying on the side of the road. We don't think he'd put himself in that vulnerable position in the past. It's about a motorcycle accident he had 30 years ago where he almost lost his leg. More on that on Yahoo news See the video above.

Billy Idol and Steve Stevens will be touring in October. Turned On, Tuned In and Unplugged will be in Las Vegas and a few other locations. Dates and tix here. And you can read his memoir Dancing With Myself which came out in 2014. Here's a viddy of Billy talking about it.

There's nothing quite like it, and that's the point: we welcome back the Heavy Leather Horror Show. Sleazegrinder is back in full glory dishing up anything of questionable taste.

Guest Lysra who is a 'murder enthusiast' and knows how to poop in the ocean gives the 'murder minute', then they do the Pumpkin Patch Stomp. There's music by Hammered Saint.

RADIO...............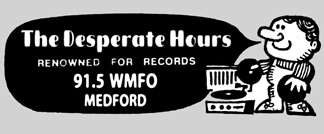 If you are sixties music fan you have to listen to Alex Piandes on The Desperate Hours on WMFO 91.5 every Thursday from 6 to 8pm or stream it online.
Alex describes the show as "it's mandatory listening for douche bags everywhere. It's Rock 'n Roll, Rhythm and Blues, Punk and Pop Dreck from the has been's, the should'a been's and the would'a could'a's and the never-were's from the 50s to the current day." Every week he "serves a steaming pile of compilation cuts and drill outs". Sometimes he throws in 'bland crap for the elderly". A favorite moment is when he plays the drop in that has a kid say, "Hey dad, play something we know, for christ sake".
It's sick how deep he digs into the sixties music, the problem is - we love it too. We know it's not healthy but it's fun. Or as Alex would say, "If you don't like it, get your own show".
Ron on Monday's Late Risers Club ( Hear it on the archive ) played "You" by Delta 5 in memory of Julz Sale the singer guitarist of that group that recently died. Delta 5 is a great example of English post-punk and "You" is a choice cut of theirs.
---
PODCASTS.......
Blowing Smoke With Twisted Rico corrals Rob Potylo a/k/a "Robby Roadsteamer". We knew him from his stint in Sweatpants Boner but that's in the rear view mirror for Rob, he's done so much since then. He even ended up on the Gong Show.
Steeve Ricardo has linked up with the multitalented Duncan Wilder Johnson to do another Podcast called We're Coming For Your Band. The initial podcast has them discussing all things Black Sabbath and nothing but Black Sabbath.
This week Above the Basement talks to Justine Covault. She's always got a lot going on and thus a lot to talk about. Justine came from Michigan and came to Boston to go to Boston University and stayed and took advantage of the club scene.
She said that there's so much going on with Red on Red that they are on a pace to have a release every week till the beginning of next year.
---
NEW MUSIC / CDs.............
A Bunch of Jerks are one hard working band. They worked right through the coronavirus shutdown with live feeds and did live shows immediately when possible. Now they have a nine cut album out called "Chart Topping Hits" (hoping to rush things along, no doubt.)
Having never stopped playing, the group sounds sharp. The glam influence they have comes out especially in the cover of "Moonage Daydream", but they have other elements that combine to make up the Bunch of Jerks experience.
They are not shy to be rude and crude like in "Motherfucker" and always ready for a "Whiskey Fight".
Mike on guitar does a bang up job duplicating Ronson's work on "Moonage Daydream" and he shows his own skill one minute into "End of a Rope" with a solo in a squelching tone that sounds double tracked ... real choice work!
Stabbatha on vocals takes on Bowie in "Moonage Daydream" and Blondie in "(I'm Always Touched by Your) Presence Dear". A lot of the material relies on her larger than life persona. There aren't many people that could sell the attitude in a song like "Motherfucker".
One of the beauties of the Bunch of Jerks songs – they are two minutes long. They get in and get out. That's the punk way.
Sundazed is releasing a 1995 album by The Lilys. They come from Washington D.C. but there is a mention of a Boston connection.
Their music has been used in a few commercials which has raised their profile. They have gone through a few styles in their life span but this rereleased album called Better Can't Make Your Life Better evokes the Kinks. You would swear it was written and recorded in the sixties.
You can listen to some clips and see a video on the Sundazed page
Kurt Baker has released another power pop cruncher called "Yeah? Yeah!" – that's all many of us has to know. If you need more - in the group is Kris Rodgers, Geoff Palmer and Zack Spraque of the Portsmouth, NH gang.
---
Here's some good shows coming up .....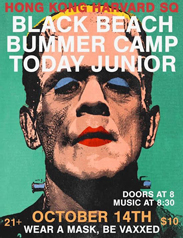 October 14 (Thursday) Black Beach, Bummer Camp, Today Junior at The Hong Kong

October 14 (Thursday) Mad Painter at The Union Tavern

October 15 (Friday) the Dogmatics and Gypsy Moths at The Magic Room. FB event page

October 15 (Friday) The Sonomatics & Link Brothers at Nick's Bar, 124 Millbury St, Worcester MA

October 15 (Friday) Tsunami of Sound, Jonee Earthquake Band, Doug Macdonald Band, Kenne Highland's Airforce, The Thigh Scrapers at Pete's Grille Quincy. FB page

October 16 (Saturday) 2nd Annual Punktoberfest at Thirsty First in Lowell - The Welsh Boys, 45 Adapters, Brix'n'Mortar, The Only Things, Disco Volante, Diablogato, DNZL, Gripbite, Stoploss, Color Killer, Nick the Barbarian, Horsehands, Timmy Heist & The 456 - starts at 2PM!! FB page

October 16 (Saturday) The Cretins, State Of The Union, The Challenged, Rusty Things, DJ Chris Atwood at Bill's Bar Landsdown St by Fenway Park. FB page.

October 16 (Saturday) Magic Room in Norwood presents Smitt E. Smitty & The Feztones and Gene Dante & The Future Starlets FB page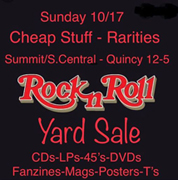 October 17 (Sunday) Three local music notables are having a Rock & Roll Yard Sale: Richie Parsons (Unnatural Axe), Albert O (DJ, currently WUMB) and Jim Botticelli (Dirty Old Boston ) are unloading some of their collections: Rock, Punk, Classic Rock, Soul (tons) Garage, Classical n Show tunes - Records, CDs, Books, Vintage Trashy Paperbacks, Art, DVDs. The thought of what those guys must have should be making a good percentage of people reading this to begin to drool. It's in Quincy on Summit/Central Ave next Sunday 10/17 from noon to 5pm.
October 17 (Sunday) The FU's, Arctic Horror, Give Up, Grip Bite at the Midway - a matinee shows 3-7PM. FB page
October 22 (Friday) The New England Mafia (Brad Marino, Geoff Palmer and Kurt Baker) playing 2 sets of hits from all their bands also on the bill now Muck and the Mires at The Square Root.
October 23 (Saturday) The Molly MaGuires, Modern Day Idols, The Hi-End, The Cast Irons at The Jungle
October 23 (Saturday) Once OktoberFest at Boynton Yards FREE Live Music provided by ONCE Somerville - Artists TBA, FREE Beer Tasting from Portico Brewing, FREE Food Tasting from Jules Catering (starting at 3pm til it's gone), FREE Fun and Games provided by EventThem, FREE Taza Chocolate Factory Tours and Tasting - 3-6pm is Family Fun Time and 6-9pm we crank it up for a party with Lala's Pizza and more Live Music. Link to register. FB page.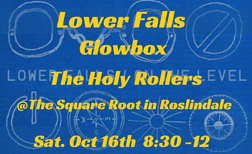 October 23 (Saturday) Sugar Blood Jinx, Hambone Skinny, The Guilloteenagers, Answerman at The Midway (night show)
October 23 (Saturday) Teenage Bottle Rocket, Broadway Calls, COB, Brix'n Mortar at The Brighton Elks Lodge FB page.
October 23 (Saturday) Freeloader Album Release party at The Plough & Stars on October 23
October 24 (Sunday) The Grommets, The Fatal Flaw, Girth Control, The Jacklights at The Midway - a matinee show 3-7PM
October 24 (Sunday) Nervous Dater, Good Looking Friends, Tatoonie Punk Scene, Stubborn Hearts at O'Brien's in Allston
October 26 (Tuesday) Premature Ejack-U-Lantern 2 with Loser's Circle, The Blame Shifters, Squallie Greenthumb at The Hong Kong
October 29 (Friday) The Dents, Black Helicopter, Motel Black at O'Brien's
October 30 (Saturday) Tsunami of Sound, Ghost Truckers, Gypsy Moths, Jonee Earthquake Band at The Midway - a 3PM matinee show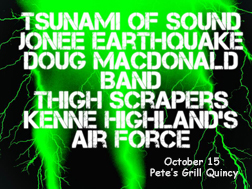 October 30 (Saturday) Hello Blondie, BETH, Justine and The Unclean, Kid Gulliver, Key of Caustic, and speedfossil at The French American Victory Club in Waltham Music at 5:30!!

October 30 (Saturday) Halloween with Tsunamibots, Brand New Luddites and State of the Union in Montpelier, Vermont at Charlie-O's World Famous. FB page.

October 31 (Sunday) Dropkick Murphys At Hogan's Run again 7-11PM...best Tessie costume wins a free drinks bracelet for the night. FB page.

November 1 (Monday) YAY!! The Hong Kong is back!! Ignorantes, Wanted, G.R.I.N., The Massacaered, 4 Minute Warning,

November 5 (Friday) Shake The Faith (reunion gig!!) with Little Billy Lost at The Magic Room in Norwood. FB page. Here's a vid of Shake The Faith at the Channel 1989

November 5 (Friday) The Guns of Brighton return to the Breakaway in Danvers FB page here.

November 6 (Saturday) Modern Day Idols, Baabes, The Chelsea Curve, If We Go At All...8PM show at the Midway

November 6 (Saturday) Kris Rodgers & the Dirty Gems with Tiger Bomb & the Desires at Sun Tiki Studios in Portland, ME. FB page.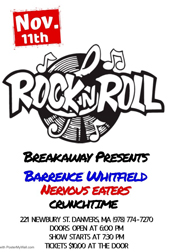 November 11 (Thursday) Barrence Whitfield, Nervous Eaters, Crunchtime at The Breakaway in Danvers FB page.
November 13 (Saturday) Hixxgiving X with Black Clouds, Hixx, Black 13 and Zagnutt - The Midway 3pm Matinee shows - there'll be free food and they are accepting food donations for local charities.
November 13 (Saturday) Field Day (x-Dag Nasty), Moving Targets, Lenny Lashley's Gang of One at the Middle East Up TIX!!
November 13 (Saturday) Unnatural Axe, Silver Synthetic, Kathy Snax, The Swettes, Johnnie and the Foodmasters at O'Brien's FB page.
November 13 (Saturday) Tsunami of Sound, U-ey at the Buoy at The Square Root
November 19 (Friday) Weakened Friends Record Release Day #1 at O'Brien's - also on the bill Mint Green, The Color and Sound. FB page
November 19 (Friday) Hardcore Stadium and Grayskull Booking Presents: Slapshot - Celebrating 35 Years of Hardcore Day 1- Stars & Stripes, Noi!se, COA, Patriot, Violent Way at Sonia - (already sold out!!)
November 19 (Friday) Joan Jet & the Blackhearts will be at the Chevalier Theatre in Medford Square. Tickets.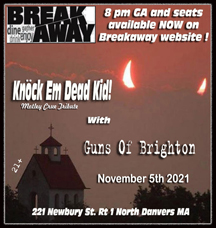 November 19 (Friday) Letters to Cleo are at the Paradise. Tickets here
November 20 (Saturday) Lurid Purple Flower, Verdegree, Motel Black, Shrink Ray at The Jungle
November 20 (Saturday) Weakened Friends Record Release Day #2 at O'Brien's - also on the bill Rebuilder and Old Soul. FB page.
November 20 (Saturday) Hardcore Stadium and Grayskull Booking Presents: Slapshot - Celebrating 35 Years of Hardcore Day 2 -Slapshot, Sheer Terror, Death Before Dishonor, Pummel, Count Time - at The Middle East Down. (already sold out!!)
November 27 (Saturday) Jason Bennett & the Resistance, The Damaged, The Hagglers, & Chris Skel at The Middle East
November 27 (Saturday) Dinosaur Jr. at the House of Blues on Saturday Nov 27. Tix
November 30 (Tuesday) The Labor Pains, Disqualifier, Tensor, Bad Sandy, The Lost Boys at The Midway. FB page
December 3 (Friday) Kurt Baker, The Fatal Flaw, Dutch Tulips at The Jungle
December 10 (Friday) Live Skull w/ Thalia Zedek Band at the Midway - night show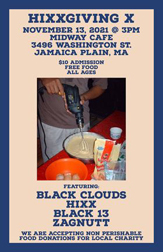 December 11 (Saturday) The Hi-End, Watts, Freeloader - Middle East Up - starts at 12:30PM!!
December 18 (Saturday) Koto's Killer Kristmas Party with Marianne Toilet and the Runs, Fog Wizard, Dust Prophet at Koto Salem.
March 13, 2022 (Tuesday) Reigning Sound at the Sinclair Tickets: https://www.axs.com/events/402182/reigning-sound-tickets
March 20, 2022 (Sunday) Henry Rollins at The Wilbur for his Good To See You tour. Tickets here https://thewilbur.com/artist/henry-rollins/
March 31, 2022 (Thursday) The Parquet Courts are at the Royale. Tickets are here
April 22, 2022 (Thursday) Circle Jerks at the Paradise
CONTACT US AT....misslynbgn@yahoo.com Send us your gig listings, your anything else ya got!! You want your CD reviewed?? Contact us for that too.
---
---