The BGN News Archive
October 17, 2022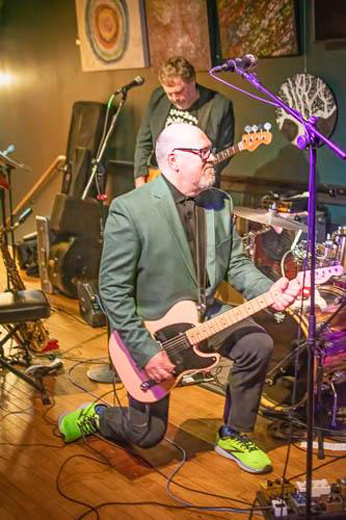 Speed Fossil at The Square Root
John Keegan was at the night of pop at The Square Root in Roslindale Square. It's nice to have a few purveyors of pop on the scene. It's not always the case. It was Glowbox, Speed Fossil and Modern Day Idols. Hit the photo link below for the photos and review.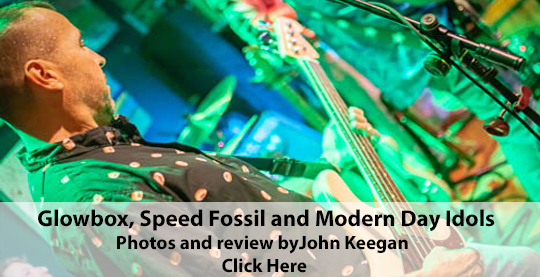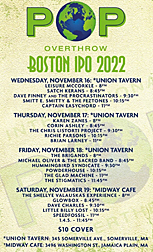 The International Pop Overthrow will have a Boston version again this year from November 16 to 19. Most of it is happening at the Union Tavern (the old PA's Lounge) and one day at the Midway Café .
There are some familiar names: Richie Parsons, 1.4.5.., Humingbird Syndicate, Little Billy Lost, Captain Easychord, Smitt E Smitty, The Brigands, Stigmatics, Glowbox and Speedfossil. David Bash has the best taste in pop so the reward is to go for the group you like and then catch an unknown one that becomes your new favorite.
The see the full line up go to the Pop Overthrow website
There's an interview with Justine Covault on the Radio Radio X website. Here's the interview where she admits the band is indeed Unclean…"They are all just filthy. Filthy people." Link to Radio Radio X interview.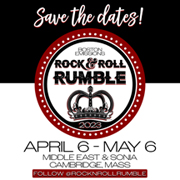 Also back is the Rock & Roll Rumble. After three years of cancelled shows the Rumble returns to the Middle East from April 6 to May 6. The first two weeks of preliminaries will be at the Middle East Up. The semi-finals and finals will be in Sonia.
Angelle Wood of Boston Emissions who runs the Rumble says: "Submissions for Rock & Roll Rumble 2023 will be accepted beginning Thursday, October 13 as a courtesy for all active New England-based bands to submit information in a thorough and deliberate manner. Rock & Roll Rumble consideration has always been based on submitting music to Boston Emissions directly and it remains as such."
Go to http://rockandrollrumble.com/submissions/ for more information.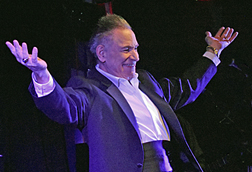 Robert Gordon is now battling with leukemia.
Here is a GoFundMe page posted to help him.
The GoFundMe page was posted on September 25 and at that point he had been sick for six weeks. We saw Gordon last time in 2019 at Once
Punk was the thing when Robert was with Tuff Darts in 1977 but he wanted to do the Rockabilly thing. He went out on his own and fashioned his own career. We always admired that artistic courage and drive.
---
VIDEOS......
Actor|Observer released a video for "Man Enough.". It's has live playing and some studio footage combined. It's a chance to see what they look like on stage as you get bowled over with that powerful song.
In the spirt of Halloween we give you two readings of Edgar Allen Poe.....
First it's Iggy Pop reciting The Tell Tale Heart, then Marianne Faithful reading Annabelle Lee.
Maybe you can't pass up Christopher Walken doing The Raven or Jeff Buckley reading Ulalume
We got these from the Open Culture website. They have more celebrity readings
---
RADIO......
We try to listen to Ron's Late Risers Show every Monday because he finds punk songs that we like. This week he played a new Boston group named Adult Learners. They just have a demo up on Bandcamp. It has a nice punk spirit. It's a mere 1:17 minutes. We look forward to seeing they will develop.
Ron followed that up with a similar group from Australia, GEE TEE. "Someone Else" has a catchy/kitschy synth hook to distinguishes it.
On Skybar's Rising show he had three members of the Mess Around crew in the studio: Justine Covault, Tom Baker and Jay Allen.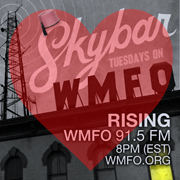 Justine talked about the Unclean's third album that is already recorded. It's thirteen songs done at Woolly Mammoth Studios with David Minehan. It's scheduled to come out in the next few months.
Jay Allen and the Archcriminals have a five song EP coming out in November titled Fun Is Fun But You Gots To Pay.
This Tuesday Skybar will be playing the new Stars Like Ours album in its entirety. If things work out there will be an interview with the band.
To hear Skybar's show go to the WMFO Schedule page, hit the Rising show on Tuesday at 8pm and then hit the 'archive' link.
---
PODCASTS.........
Blowing Smoke with Twisted Rico has two guests this week Anthony Kaczynski and JJ Gonson. The show begins with "Today" from Fireking. That was the last song Tony has released in January of 2021.
JJ. Gonson talked about the shows done under the Once banner. Gonson now refers to Once as the 'itinerant' venue.
When Tony's group Figures On A Beach played the Rat, Tony got a phone call in the Rat office. It was Semore Stein saying "welcome to Sire Records." The band also shared a practice space with Til Tuesday.
Both Gonson and Kaczynski has extensive music careers and the conversation is always revealing and interesting.
Steeve let drop that his next show will have Al Barile and Jamie Sciarappa off SS Decontrol!!
Rat Tales catches up with Sal Baglio of the Stompers then, and Amplifier Heads now. The Beatles in 1964 changed everything for Sal like the rest of the world. Sal's exposure to music will be familiar to anyone growing up in the Boston area. WBCN was another mind expanding experience.
One of Sal's early bands only played Grand Funk covers. Hey, that's an idea for someone to try now. No not really, we're joking!!
Sal made a point that we see too: there are a lot of cover/tribute bands like there was before punk. There is a difference now though, the tribute bands exist along with plentiful original bands.
The Stompers benefited from the attention the whole scene had in the late seventies and he has lots of insights from that time period. Sal says they suffered the fate of a bad producer and a bankrupt record label.
Brad Hallen of the Nervous Eaters was a guest on a podcast called Your Life The Mixtapes. Right off he explains the back story of "Hop Sing Says". Hop Sing was the chef on Bonanza and was the guy that had the perspective and lessons, so you always should listen to what someone like that says.
Brad has some sage advice himself. He seems to have the major things in perspective.
There's podcast that is connected to the release of Lou Reed: Words & Music May 1965. The podcast is 35 minutes long. They have a few archivists and experts talking about finding the tape and how they dealt with the material. They then go through each song individually and analyze them.
---
NEW MUSIC/CDs......
Oh The Humanity! have a new song titled "Blues". One line is "I always sing the Blues" but the song sounds nothing like the old time blues. It's very typically a OTH! song with its punk/hardcore mix and the emo-ish vocals. It is only 1:49 minutes long, so multiple plays are almost required. The tempo is fast and it zips along. If you see them live it's the sound of the band that sticks with you and they always capture that on their recordings as they do here.
Look at that cover too. It's got the blue color and it's constructed from Legos.
We have this on our Top Ten Songs too
It's a good week when we get another Today Junior song. "In Massachusetts" has lyrics that pine for the good old days in Massachusetts. They name check Allston and the Fenway. With a whispery recollection they evoke their Boston memories. It worked wonders on us. That they can write a song like this about the city we care about makes us love them even more.
"Burst" is the latest by Adventure Set. Their music is in the 80's electronic vein. Here they have a 45 second intro. With everything measured to a T. they establish a groove and an appealing electronic arrangement. We latched onto the bass line in that intro and it held us to the end.
We don't know what they are singing about but it has a dark air about it. The clear tones sounded great loud.
The Lou Reed/John Cale recordings from 1965 that include the first versions of "Waiting for My Man" and "Heroin" are out now.
You can order it from Light In The Attic on vinyl, cassette and CD. You can order here
The material is also on some streaming services. Here's a link tree to some of those
Roger Miller's now has foru of the 8 songs off his latest album Eight Dream Interpretations For Solo Electric Guitar Ensemble up to hear. Dream logic drives the compositions thus they have a wide variety as one would expect. Rodger has some neat guitar tones through the songs. All the songs have that prodding for the ineffable that give them mystery.
We liked Dream Interpretation #17 which has an electronic beat that moves it.
Evil Felipe have a new song titled "Summer Rain". It's loss of a relationship song. Rather than make it slow and brooding they go against the typical idea and give the song a good punch of energy. The guitar chords dig in and punctuate the very effective lyrics.
This group has a very good thing going on. The songs are slow in coming but always worth the wait. We think they should be getting more attention.
Diablogato releases a single "Jet Black Night". They got a good write up in Vanyaland about it
They say it was a song done during the Covid pandemic. It does seem darker than other things they have done. They also say they are now thinking of adding more influences into their sound. This one doesn't sound too far afield of their usual.
---
Here's some good shows coming up .....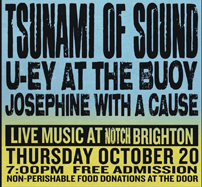 October 17, 2022 (Monday) Gollylagging, Kerosene Heights, Tatooine Punk Scene at The Silhouette Lounge Allston
October 20, 2022 (Thursday) Tsunami of Sound, U-Ey at the Buoy, Josephine With a Cause at Notch Brewery Brighton FB page
October 20, 2022 (Thursday) June of 44, The Thalia Zedek Band at The Middle East Down
October 21, 2022 (Friday) Key of Caustic at The Square Root.
October 21, 2022 (Friday) Stars Like Ours, Gene Dante & The Future Starlets, Paper Tigers at Faces Brewery Malden
October 22, 2022 (Saturday) Jason Bennett & the Resistance, The Manglers, Mistakes Were Made, Jake Bell (Barroom Heroes) at The Midway - MATINEE at 3PM.
October 22, 2022 (Saturday) OktoberFest at Once Boynton Yards with Emperor's Martins Stationary Marching Band, Conical Cacophony and DJ Al Watkins this is a FREE event also with a vendor market, crafts, giveaways, food by Cuisine en Locale, drinks, live music, and more. 11am to 5pm - to Register!!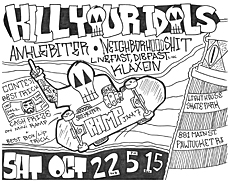 October 22, 2022 (Saturday) Mercy Union, Lenny Lashley's Gang of One, Mikey Erg, Jeff Rowe at Faces Brewery Malden.
October 22, 2022 (Saturday) Gatekeeper Jam 7 with Kill Your Idols, Anklebiter, Neighborhood Shit, Live Fast, Die Fast, Klaxon - @ Lighthouse Skatepark (881 Main St - Pawtucket, RI) - this is an early show at 5PM - All Ages $15.

October 22, 2022 (Saturday) The F.U.'s, Sonicness and Balloon Thief at The News Cafe in Pawtucket, RI - FB page
October 23, 2022 (Sunday) Lady Pills, Little Fuss, and Olivia Sisay at ONCE at The Rockwell
October 23, 2022 (Sunday) Dead Boys with The Midnight Creeps, The Briefs and Suzi Moon has been moved to Alchemy. FB page.
October 23, 2022 (Sunday) Live Music Pop Up Events at The Worthen Attic - with Red On Red artists Canyons & Locust debut performance and poster art, merch, vintage stewreo gear and vinyl.
October 27, 2022 (Thursday) Modern Day Idols, Gretchen Shae & The Middle Eight at Notch Brighton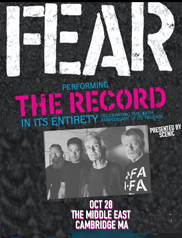 October 28, 2022 (Friday) FEAR performing The Record in its entirety at The Middle East Down - FB page.
October 28, 2022 (Friday) Free Halloween Show at The Worthen Attic with RoseR - as "AEROSERSMITH", members of Wildcat Slim - doing Morphine as "The Mighty Morphine Power Rangers", members of Speed Fossil - doing Guided by Voices as "Guided by Choices" and members of Radio Compass - doing Green Day as "1,039 Smoothed Out Slappy Half-Hours"
October 29, 2022 (Saturday) Matinee Massacre with Hammered Saint, Hambone Skinny, Black Souls at The Jungle - 4PM early show.
October 29, 2022 (Saturday) Red on Red Dress Like a Rock Star Halloween Party with Stupidity (from Sweden) with Keith Streng from the Fleshtones, Cold Expectations, Andrea Gillis, Justine & The Unclean and Speedfossil - at the French Club in Waltham. FB page
October 29, 2022 (Saturday) Halloween Cover Extravaganza by Once at The Armory with bands: A Lad Insane are David Bowie, Staring At The Sea are The Cure, Gretchen and the Banshees are Siouxie and the Banshees, Bikini Whale is B52's - TIX
October 29, 2022 (Saturday) Tiffy, Divine Sweater, Kipani, Paper Tigers at O'Brien's
October 30, 2022 (Sunday) The Manglers, The New Frustrations, The Instamatics, Charmed & Strange -3PM matinee at The Midway
October 30, 2022 (Sunday) A Red on Red Halloween Mess-Around! with Stupidity featuring Keith Streng (of the Fleshtones), Lynda Mandolyn, Linda Pardee and Tim Gillis, Justine's Black Threads, Tom Baker and of course Mess Boss Jay Allen 4PM at The Plough &Stars FB page.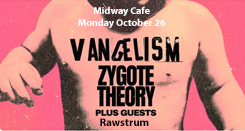 October 30, 2022 (Sunday) Lucretia's Daggers' 20th Band-iversary with Happy The Clown, Dead Harrison, Lucretia's Daggers, and Lobotomobile at The Rockwell by Once.
November 2, 2022 (Wednesday) River Of Trees, Black Helicopter, Accidental Caps, Tower Brothers at The Midway
November 5, 2022 (Saturday) The Mahones, The Pourmen, The Gobshites at Askew in Provi.
November 7, 2022 (Monday)Starcrawler at The Brighton Music Hall - this is all ages and EARLY at 6:30PM TIX.
November 9, 2022 (Wednesday) Actor|Observer's record release show they will be joined by Moss Tongue, Kid Disaster, and Life Itself is at The Rockwell - this is a 7-10PM show. Tickets
November 11, 2022 (Friday) Hardcore Stadium Presents: Wound Man, Tinnitus, Robert Siege, Hideous, Shawnie Brando, Strictly Hip Hop, Sinister Wand, Operation Paperclip, Biproduct at The Middle East Down. Doors at 5 PM.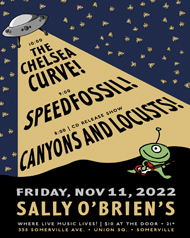 November 11, 2022 (Friday) The Chelsea Curve, Speed Fossil, Canyons & Locust are at Sally O'Brien's
November 11, 2022 (Friday) The Teezers, The JackLights, Phantom Ocean, Key of Caustic at The Jungle
November 11, 2022 (Friday) Hardcore Stadium Presents : Wound Man, Tinnitus, Robert Siege, Hideous, Shawnie Brando, Strictly Hip Hop, Sinister Wand, Operation Paperclip, Biproduct at The Middle East Down
November 12, 2022 (Saturday) Kris Thompson's 60th(!) w/ Sunburned Hand of the Man, Matt Lajoie, Dyr Faser at Lilypad at 7:30 PM Event page on Facebook.
November 12, 2022 (Saturday) Dutch Tulips Bellwire, Bellwire and Jonee Earthquake Band at Faces Brewing Malden
November 12, 2022 (Saturday) SO/CAL Punk Invasion 2022- Black Flag, The Dickies, TSOL, Total Chaos at The Granite State Music Hall Laconia, NH - TIX!
November 16, 2022 (Wednesday) Youth of Today, Art Thieves, ICU at The Middle East Down TIX!!
November 16, 2022 (Wednesday) International Pop Overthrow starts today at the Union Tavern and runs trhough Sunday 11/19. Go here to see who is paying when
November 17, 2022 (Thursday) The Thigh Scrapers, Mad Painter, Doug MacDonald Band, The Stigmatics at The Middle East Up.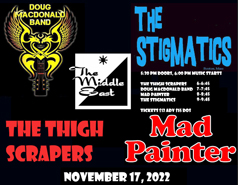 November 19, 2022 (Saturday) A Crash Course For The Ravers on WMFO 91.5 FM has Mach Bell as guest. 10AM- 1PM
November 19, 2022 (Saturday) Men and Volts at The Square Root
November 20, 2022 (Sunday) Hardcore Stadium presents - The Trouble at the Middle East Down (alas this show is sold out)
November 25, 2022 (Friday) Grayskull Booking & Hardcore Stadium present Slapshot, Crown of Thornz, Risk, Neighborhood Shit at The Middle East Down
November 25, 2022 (Friday) The Sheila Divine, Valleyheart, The Rupert Selection at the Paradise Facebook event page Tickets
November 25, 2022 (Friday) Tree are at Alchemy in Provi RI - FB page
November 26, 2022 (Saturday) Stars & Stripes, The Prowlers, Cinderblock, Luger at Sonia
November 26, 2022 (Saturday) Dinosaur Jr., Guided by Voices and Eugene Mirman are at the House of Blues -FB page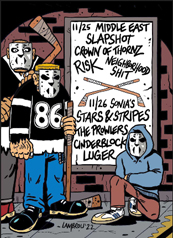 December 10, 2022 (Saturday) New England Punk Rock Flea Market presents our inaugural live event, happening here at the historic Hotel Vernon, located in the vibrant and newly revitalized Kelly Square. Join us for a fun day of vendors and bands, a toy drive, and holiday raffles! 11AM - 9PM Music at 7PM -Music 7PM with Michael Kane (solo), Scare City, Sapling, Memory Lame FB page for vendor info etc
December 17, 2022 (Saturday) SCMF, Dogmatics, Jittery Jack & Amy Griffin at Faces in Malden FB page.
December 17, 2022 (Saturday) The Lemonheads are playing the Paradise
December 18, 2022 (Sunday) The Lemonheads are playing a seco0nd show the Paradise - Facebook event page
October 11, 2023 (Wednesday) The Mission UK & The Chameleons: Deja Vu Tour 2022 Rescheduled to 2023!!! also on the bill Theatre of Hate
CONTACT US AT....misslynbgn@yahoo.com Send us your gig listings, your anything else ya got!! You want your CD reviewed?? Contact us for that too.
---
---