The BGN News Archive
November 1, 2021
John Keegan gives us a slide show and a few remarks from last night's Red on Red Halloween party in Waltham. We will have a longer report later in the week......
"Justine Covalt's and David Minehan's new venture, Red Mammoth Productions, had a way successful kickoff bash last night at the French Club in scenic Waltham. From the outside, the building is nondescript, grey, and low-end industrial. Inside it has function hall ambiance and decor that gives it a familiar, Once West feel, complete with a disco ball, a decent amount of mirrors, glitzy chandeliers, and a bar in the back corner. The right size stage is at one end. There is a good size dance floor that stays busy all night. There are tables for seating in the back. Finally, there is a very welcome site - a large parking lot.
It was raining torrents and the stars still came out to play. Nancy Sinatra and Tom Jones made the scene. There was a knight in shining armor. Suzi Quatro pulled her leather jumper out of the closet for one last dance. Moulty hurt his leg so he and his hook kept a low profile at a back table. Johnny Ramone had a number of doppelgangers. John Lennon looks fab in his Sargent Pepper get-up. Smitty sported his best black dress kilt and came as his Rockstar self. Check out the slideshow cuz every picture tells a story."
Read John's full review by hitting the photo link below....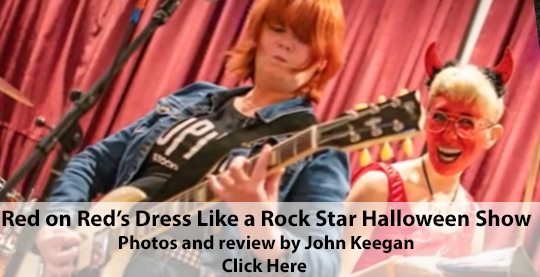 ---
New music venues are popping up!
Roadrunner in Allston is in the new area called Boston Landing (85 Guests St). It has a 3,500 capacity, music starts there in March 2022, nothing for us, nothing local or punk ... as of now. Let's hope that changes!! Here's their calendar.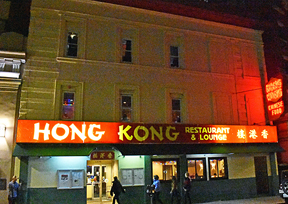 Another new venue is the Sanctuary in Maynard, that's "metrowest". Sanctuary has a variety of events and music styles in their calendar. Red on Red has their showcase show there on November 13. Groups will be Andrea Gillis Band, Tiger Bomb, Girl With a Hawk, Justine and the Unclean and When Particles Collide. The Facebook event page
Well let's hope these places get some local bands in there because another venue, one of our faves, The Hong Kong Harvard Square, which was just getting back on its feet, has signed off. We missed it earlier but.....
" Sorry to say but it's a wrap here for us at Hong Kong Harvard shows. Yes, the restaurant is still open and please stop in to grab a bite and say hello.
Just not in the cards to be a place that has live music now. All bands have been notified but to reiterate all shows are canceled. Thanks for that one wild year we got to throw rock n roll shows on the third floor." We mourn the loss of the Hong Kong shows!!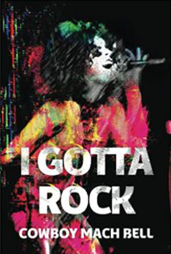 Mach Bell has a whole new career going by publishing his second book I Gotta Rock. His first book, Once a Rocker, Always a Rocker covered his time with Joe Perry. This new 490 page effort covers his whole rock life!!
Mach has basically always been living to get on stage and rock. He saw shows by Hendrix, Beck and the Bosstown Sound groups in the sixties and promptly started his own bands. Mach's profile is different than many we deal with in the fact that his experience was in the western suburbs rather than Boston.
With Thundertrain he finally gets involved in Boston in the late '70's. Then it's Joe Perry to Mach 4. In between he's hippy living in Denver and spending a month working the circus. He's had an interesting life and you get the whole sweep of it with details from his diary. Like the first book it's a fast enjoyable rocking read. Mach lives for this, to Mach, "Being part of a team is one of life's greatest pleasures."
Mach's portrait of the rock life is similar to many people we have known through the years. Mach's story is one that resonates.
You can get this book through Mach's (an autographed copy!!) Facebook page or through Amazon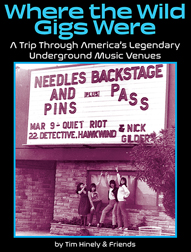 HoZac publishers has an interesting book - Where the Wild Gigs Were: A Trip Through America's Legendary Underground Music Venues. They review 71 clubs.
In Boston they review 5 venues. The book starts with Al Quint mulling over Gallery East and the Boiler Room. We never went to the Boiler Room which seemed wild. Bob Fay writes about Chet's Last Call. Big Dipper's Steve Michener writes about the Paradise. Here's where I would argue that the 'underground music venue' tag doesn't jibe but Michener does an enthusiastic write up. Tim Bugbee, who contributes to the Dig, reminds us of the much missed TT the Bears. Tim's remark that the club 'punched above its weight class" pegs it nicely.
Reading the entrees reminds us how subjective our opinions are. All the writers saw different groups or went to the clubs in different eras than we did. It reminds you that you can never know it all. That's why books like this are valuable.
We read about the Boston clubs we know first, but will now slowly go through the other cities. Washington D.C. has its own section comprised of 11 clubs. Volume II is already in the works. There's still a lot of Boston Clubs to talk about. In that line of thought, check out our list of Boston Area Clubs.
Get the book through the HoZac Books website
SHORT CUTS......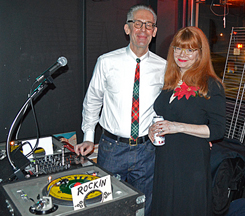 Say it isn't so!! John Fuller (also known as Easy Ed) and wife Beth Burleigh Fuller will be moving to Pennsylvania in mid-November. John did the radio show Easy Ed Variety Hour on WMFO on Friday nights, He also hosted those wonderful rockabilly shows around town. We saw many at the Midway. He set the standard of good taste in Rockabilly. His influence will be missed.
The Shang Hi Los resurface on November 11th with a new single titled "Plymouth Rock".
Dinosaur Jr.'s J Mascis made the cover of Premier Guitar this month.
WMBR's fundraising week starts on Sunday, November 7. Their Late Risers Club has been the main punk radio show since 1977. We'll say it again SINCE 1977!! Here's their website
---
VIDEOS......
Yung Punx: A Punk Parable - the documentary on Color Killer that was filmed a few years ago is now being released. It will be part of DOC NYC, the NYC documentary festival on November 12. The great news is that it will also show on WGBH Channel 2 Boston on Thursday, 11/4 at 9pm.
It will also be shown at the Regent Theatre in Arlington on Friday, November 19, with Color Killer playing a live set. Trailer for this film is above.
Once Virtual Venue posted some shows this week with a Halloween themed show. On Thursday 10/28, the first was HallOVVeek: GRCB Halloween ReBOOt - Night of the Undead, a rebroadcast of Once's Halloween in July at Boynton Yards.
It starts with TIFFY doing the Cranberries. The vocals were especially spot on. They did "Dreams" and "Linger". She did a set of Green Day. Then, at the 36 minute mark is Deva, a female Devo act! That was clever. They did a good job bringing Devo tunes to life.
This week "The Zip Code That Changed Television", Chapter 4 in Tommy White's ZOOM Lost and Found documentary. This one is about the unique way Zoom used viewer mail.
Bim Scala Bim has an interview along with some music vids from www.specializedproject.com. The band has a interview session done on Zoom.
PODCASTS.........

Blowing Smoke With Twisted Rico gets the members of Shake the Faith in the studio. That would be Casey Lindstrom, Todd Erickson, and Jesse Meyer. They have a reunion gig coming up this Saturday at The Magic Room. They've been working hard in rehearsals to get up to speed and they have a cover song that they say will be a big surprise for the show.
---
NEW MUSIC/CDs......
"Top It Up" is the eighth entry in the very successful Chelsea Curve Singles Club series. It seems like a genius move to have methodically released these songs in preparation for the album, but that's only because the material was so good. If the songs were mediocre the interest would have flagged. The opposite happened, the constant spotlight revealed what a talented group this is. Even we, who saw the group a few times before the Covid hit, were constantly surprised at the results of their studio sessions. It doesn't take long to get hooked on "Top It Up". Can't wait to hear those chants of "Hey-O" done live.
Somehow Johnny Angel linked up with the Peppermint Kicks duo Sal Baglio and Dan Kopko to whip up a song called "Eternal Adolescent". Lyrically that's something a lot of us can relate to. It's a very full sounding recording with full backup vocals.
For a few years when we were checking out new local bands online, we noticed that the band Ovlov got mentioned a lot as an influence. Ovlov, from Connecticut, have a new album coming out called Buds. They have two songs pre-released on Bandcamp.
"Land of Steve O" makes a good introduction to the group. They have an indie vibe. The song has a distinctive pulse to it that never varies whereas the volume goes up and down. Near the end a guitar comes in with a screechy almost hysterical tone. It all manages to give them a strategy for a defining group sound. We can understand why this group has its adherents.
The wait is over for the full Freeloader II album. Nat Freedberg has to be happy with this. There's no indication that there was any compromise in quality because this was recorded during the pandemic. The material is strong and there are those flashes of Charles Hanson's guitar brilliance all the way through.
When Lou Mansdorf of Rum Bar Records got to Boston in 2003 he found The Abbey Lounge. One of the first things he did was get some songs together and play during one of Steev Ricardo's acoustic nights. Lou has now released four of those songs recorded in 2005. There's a lot of passion in these tunes. Lou hits the acoustic with so much energy and sings so lively that they cry for a full band back up. We would have liked to be in the audience for this, and we don't say that about many acoustic performances.
---
Here's some good shows coming up .....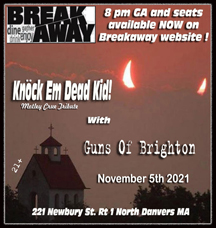 November 2 (Tuesday) SkyTigers, Circus Battalion, Breaking Up, Beyond Agitation at The Jungle
November 4 (Thursday) Watch Yung Punx: A Punk Parable - the Color Killer doc on WGBH Channel 2 Boston on Thursday, 11/4 at 9pm.
November 5 (Friday) Shake The Faith (reunion gig!!) with Little Billy Lost at The Magic Room in Norwood. FB page. Here's a vid of Shake The Faith at the Channel 1989
November 5 (Friday) The Guns of Brighton return to the Breakaway in Danvers FB page here.
November 5 (Friday) The Worst, Exit 18, Bad Larrys at The Jungle
November 6 (Saturday) Modern Day Idols, Baabes, The Chelsea Curve, If We Go At All...8PM show at the Midway
November 6 (Saturday) Kris Rodgers & the Dirty Gems with Tiger Bomb & the Desires at Sun Tiki Studios in Portland, ME. FB page.
November 11 (Thursday) Barrence Whitfield, Nervous Eaters, Crunchtime at The Breakaway in Danvers FB page.
November 12 (Friday) Carissa Johnson, Pillbook at Sonia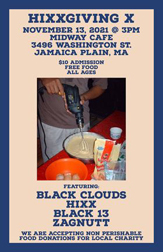 November 13 (Saturday) Hixxgiving X with Black Clouds, Hixx, Black 13 and Zagnutt - The Midway 3pm Matinee shows - there'll be free food and they are accepting food donations for local charities.
November 13 (Saturday) Field Day (x-Dag Nasty), Moving Targets, Lenny Lashley's Gang of One at the Middle East Up TIX!!
November 13 (Saturday) Muck & the Mires, The Dogmatics, Stop Calling Me Frank at The Porch is Medford FB page.
November 13 (Saturday) Unnatural Axe, Silver Synthetic, Kathy Snax, The Swettes, Johnnie and the Foodmasters at O'Brien's FB page.
November 13 (Saturday) Tsunami of Sound, U-ey at the Buoy at The Square Root
November 13 (Saturday) The Gypsy Moths and The New Frustrations at the New World in Plymouth.
November 14 (Sunday) Thrust Club, Phantom Handshakes, Bad Larrys, Sorry, Ma! at O'Brien's
November 19 (Friday) Murderer's Row First Show In The Boston Area in 15 Plus Years at The C Note in Hull. Also on the bill Worm, Working Poor USA, Punk Band (Rockin' Bob's) and Dead Low (ex Revilers, Fast times, Led to the grave) FB page.
November 19 (Friday) Weakened Friends Record Release Day #1 at O'Brien's - also on the bill Mint Green, The Color and Sound. FB page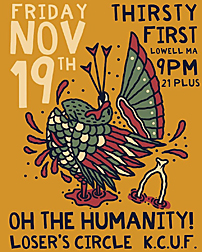 November 19 (Friday) Oh The Humanity, Losers Circle, KCUF at Thirsty First in Lowell. FB page.
November 19 (Friday) Joan Jet & the Blackhearts will be at the Chevalier Theatre in Medford Square. Tickets.
November 19 (Friday) Letters to Cleo are at the Paradise. Tickets here
November 20 (Saturday) Lurid Purple Flower, Verdegree, Motel Black, Shrink Ray at The Jungle
November 20 (Saturday) Weakened Friends Record Release Day #2 at O'Brien's - also on the bill Rebuilder and Old Soul. FB page.
November 21 (Sunday) KCUF (record release) with On The Cinder, CE Skidmore and The Damn Fine Band , Bad Ideas USA - 3PM matinee at The Midway.
November 27 (Saturday) Jason Bennett & the Resistance, The Damaged, The Hagglers, & Chris Skel at The Middle East
November 27 (Saturday) Mad Painter at the Middle East (Corner) 9:30PM
November 27 (Saturday) Dinosaur Jr. at the House of Blues on Saturday Nov 27. Tix
November 30 (Tuesday) The Labor Pains, Disqualifier, Tensor, Bad Sandy, The Lost Boys at The Midway. FB page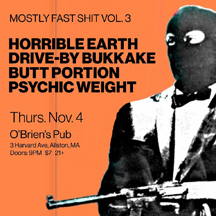 December 3 (Friday) Kurt Baker, The Fatal Flaw, Dutch Tulips at The Jungle
December 3 (Friday) Planet Mercury, Super Pink and Chris Walton at Club Bohemia
December 4 (Saturday) The Imposers, Witches Tears, Jerry's Got Jokes, Blame It on Whitman, Beyond Agitation - 3PM Matinee Show at The Midway
December 4 (Saturday) Hunter, Melt, Faith and GingerIbex at Club Bohemia
December 5 (Sunday) Benefit for Pine St. Inn with Lenny Lashley's Gang of One, Jesse Ahern, Wicked Whiskey - 3PM Matinee Show at The Midway
December 10 (Friday) Live Skull w/ Thalia Zedek Band at the Midway - night show
December 11 (Saturday) The Hi-End, Watts, Freeloader - Middle East Up - starts at 12:30PM!!
December 11 (Saturday) Kids Like You & Me Christmas Special featuring Johnnie & The Foodmasters at Club Bohemia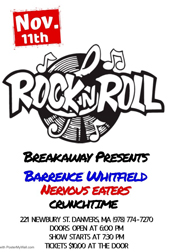 December 18 (Saturday) Koto's Killer Kristmas Party with Marianne Toilet and the Runs, Fog Wizard, Dust Prophet at Koto Salem.
March 13, 2022 (Tuesday) Reigning Sound at the Sinclair Tickets: https://www.axs.com/events/402182/reigning-sound-tickets
March 20, 2022 (Sunday) Henry Rollins at The Wilbur for his Good To See You tour. Tickets here https://thewilbur.com/artist/henry-rollins/
March 22, 2022 (Sunday) Henry Rollins: Good To See You 2022 at the Met in Pawtucket, RI FB page
March 31, 2022 (Thursday) The Parquet Courts are at the Royale. Tickets are here
April 22, 2022 (Thursday) Circle Jerks at the Paradise
CONTACT US AT....misslynbgn@yahoo.com Send us your gig listings, your anything else ya got!! You want your CD reviewed?? Contact us for that too.
---
---