The BGN News Archive
November 7, 2022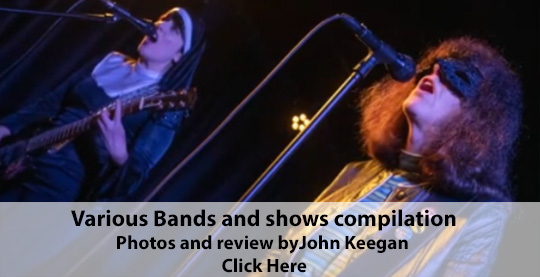 Well, the year end is coming up soon and John Keegan decided it was time to clean up his Neglected Camera Cards and share the outcome with us ... and you. He's got The Humanoids, Sapling, Scissor Fight, Classic Ruins, Crow Follow, The Woggles, The Itchies and a whole lot more in his Slide Show. To read the review that goes with the slide show hit the photo link above. Check it out!!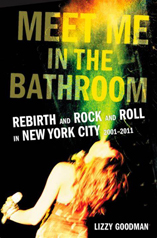 Meet Me In the Bathroom, the film based on about the NYC music scene in the late 90s and early 2000s is coming to town. It's at the Brattle Theatre on this Friday November 11 at 10pm. It plays three more days 'til Tuesday the 15th. Masks are still required there.

The film is based on Lizzy Goodman's book of the same name. It zeroes in on bands like The Strokes, Yeah Yeah Yeahs, LCD Soundsystem, Interpol and TV On The Radio. Get tickets here.

The Boston Globe had a piece on Stereo Jack's this week. As the reporter, Noah Schaffer, is in the store getting the story Tony Kaczynski drops in and later Charles Hanson. It shows that it was a happening place and made you want to go. If you do, it's 736 Broadway, Ball Square in Somerville.

It's one of the unexpected turns that life deals out – a record store revival!

If there is no paywall the story is here

The Nervous Eaters continue to get good publicity as they get closer to the November 11th release of their album Angels & Monsters. This week it's an article in WBUR's website.

The Silhouette Lounge in Allston is offering free hot dogs for life if you get a Silhouette related tattoo! Drew Barrymore even talked about it on her TV show...and appropriately with tatted up Dennis Rodman Here is a video of her talking about "One ink - one link" Makes me fondly remember the 10 cent Sunday hot dogs at Fathers!

Anyway, want free Sil dogs? Get a tattoo. Read more, like the rules and stuff, on the Silhouette website.
---
VIDEOS......
The Damned have been touring in the UK, this time it's the long awaited original line up tour which of course includes Rat Scabies or Brian James! It's surprising that they actually did it! But as Captain Sensible says "we kissed and made up."
Brooklyn Vegan actually has a few videos of some of the songs from their first night show of the tour on October 28th. There's "New Rose", "Neat Neat Neat" and others. Their set list is also listed, they have some interesting covers too.
They even do "Stab Your Back"...if you saw the earlier doc, The Damned: Don't You Wish That We Were Dead, Captain Sensible refused to perform that song, the only song written by Rat Scabies, saying it encouraged violence. But it's well known Sensible and Scabies have had a feud going to quite some time. And it's thought that was the real reason he refused to play it.
We love Rum Bar Records' Mad Mojo Jett because they sound so carefree and a little wacky. That's the charm of their video for the song "Hard To Be Broken".
---
RADIO.......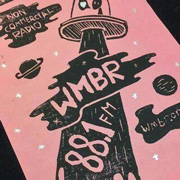 WMBR had their fund raiser this week. You can still give by going to the station website and hitting the 'pledge' button. You can specify what show you are giving your donation too and get some 'MBR merch for your gift.
WMBR has the Late Risers Club and Breakfast of Champions that are on Monday to Friday. Then there are an eclectic choice of shows on the rest of the schedule.
One that is a bit under the radar is The Scene, on from 7 to 8am on Fridays. The DJ's are Nick Saloman (Bevis Frond) and Paul Siminon (The Clash). They have a seemingly endless range of rock music that they excavate. Good example this week was the Sex Pistols' "Pretty Vacant" done in a near cocktail music version by Paul Jones of Manfred Mann fame. You have to hear it to believe it. Here it is on YouTube. Also on the show there's a Smashing Pumpkins demo that has a guitar workout worth hearing.
Hear The Scene by going to the WMBR archives and hit the link for Friday at 7am.
On Monday Nick Wang filled in for Ron on the Late Risers Club. After an intro set he played bands doing covers because Monday was Halloween after all. Some good stuff in there! There was Less than Jake doing Tommy Tutone, The Crawlies covering the Sonics, The Queers went close to home by singing The Greemies, Celia and the Mutations taking on The Shondells and The August Spies are not scared to sing some GG Allin and much more. There's nothing obvious here in this very entertaining show. Hear it by going to the WMBR archive page and hitting the link for Mon October 31 10am.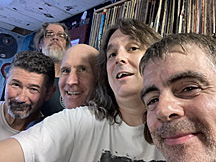 A Crash Course for the Ravers had Huck 2 for a live set this week. Harry Vee was in Pop Gun but Huck's history goes back to before that.
Huck 2 recorded in Woolly Mammoth with David Minehan. That material will come out in a few months and the group will start to play out.
Brian Young does well with the live in studio sets. We got to know State of the Union from the times they played there.
To hear the show go to the WMFO schedule page hit CCFTR on Saturday at 1pm and then hit the 'archive button.
---
PODCASTS.........
Blowing Smoke with Twisted Rico gets East Boston's own Sal Baglio in for a talk. He made his fame with the Stompers. Sal does a good job outlining his movement and growth from the Stompers to his later song writing and current music projects with Peppermint Kicks and Amplifier Heads.
It also has a familiar story line when Rum Bar Records steps in and facilities getting Sal's new music out in distribution.
---
NEW MUSIC/CDs......
One Fall is a brand new group from Salem. Helen McWilliams of Tijuana Sweetheart and Petty Morals and Caleb Wheeler of Razors in the Night are in the band. The self-titled EP has three songs that do a bang up job balancing a hard rock attack with hearty and melodic vocals. All the members are veterans of other groups. That's not a surprise, you couldn't get this good right out of the gate without experience.
There is real depth in the recording too, which was done in Salem. We have "Shoot Straight" on our Top Ten Songs
They have it all, the instrumentation, the vocals – both the main and background and the song writing. It's super impressive. There's a real group spirit in this material. This is just the first step for One Fall. The lucky people will see this group live. and in fact they have a show on Friday December 9 with Zip Tie Handcuffs and Blame it on Whitman at Faces Brewery in Malden. The Facebook event page
"Rats Abandon Ship" has so much in it that we give you that as a song to hear but all three songs are good.
Rum Bar has a campaign on to get Nat Freedberg some attention. They have a free compilation album on Bandcamp. It represents "the wealth of creativity and rock n' roll musical output from the artist known as Nat Freedberg across his Rum Bar Records catalogue and songbook." We're all for this. Nat has been busy during the pandemic. He was creating material right from the early days when most found creativity hard to come by.
Nat has always been his own island. He has his trademark sounds he brings to all his bands and that's here in his solo and Freeloader material. Charles Hanson, Jim Haggerty and Jim Janota are also in Freeloader.
On the Bandcamp page are links to his solo and Freeloader full albums
On top of all that we found these The Flies: Get Wise Demos.
This has the Get Wise album songs plus a lot of other songs, twenty two song total. Nat has always been prolific.
Rum Bar Records comes up with the first Christmas songs of the season. If there's a prize for that – they got it.
There's a digital single by Cindy Lawson. "Hey Santa" that has a Darlene Love vibe to it, which is always a good thing. "Mr. Scrooge" is a cover of a 1964 song by The Orchids, which captures the 60s feeling as well as the Christmas one.
Beebe Gallini has rereleased last years' "You Ain't Gettin' Nothin'" but this year it's packaged as a red flexi disc. The song is a garage rocker and it's suitable as a gift!
The Dickies have a new single which is actually some 20 year old songs. One is "Blink 183" which you have to assume is about Blink 182 but they don't admit that. The song zips along just like the groups' original recordings. The guitar solo is a winner. Now if we just could hear those lyrics. If you're a Dickies fan you want to hear these.
You can get it on colored vinyl from Cleopatra Records
We like this new EP, Bombs Away, from Dallas band Sloth Fist. The leading single is "Bombs" and it's a cranking tune.
The band is thrash punk with some Turbonegro and Descendents traits. One of the songs that caught our attention was "Too Old To Rock" because…you know!
It has some good lines like " I know I'm old and fat/ My future is small unlike my ass/Too old to rock."
One of the things about getting older is that we find ourselves attracted to blatant obscenities. Oh yeah! The song "We're Fucked" covers that territory. In fact "we're fucked" chorus isn't gratuitous. It actually expresses some real situations anyone could be in. Let's call it justifiable obscenities. We can relate. The song is linked below. Here's Sloth Fist's Facebook Page
And we give you "Black Orange" from Portland, OR's band Bothers. This track just scorches your ears off from the get go!!
It also captures your mind. We just couldn't stop listening to it! When it's over you think – what was that?
This is just a single, we're dying to hear the whole album!. It's title II, (cuz it's their second album) and will be out on November 18 on Dirt Cult Records. Here's the band's Facebook Page
---
Here's some good shows coming up .....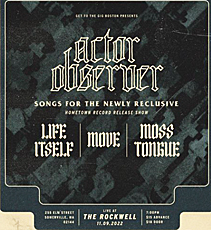 November 7, 2022 (Monday)Starcrawler at The Brighton Music Hall - this is all ages and EARLY at 6:30PM TIX.
November 8, 2022 (Tuesday) The Dictators, Little Billy Lost are at Alchemy in Provi, RI FB page.
November 9, 2022 (Wednesday) Actor|Observer's record release show they will be joined by Moss Tongue, Kid Disaster, and Life Itself is at The Rockwell - this is a 7-10PM show. Tickets
November 11, 2022 (Friday) Hardcore Stadium Presents: Wound Man, Tinnitus, Robert Siege, Hideous, Shawnie Brando, Strictly Hip Hop, Sinister Wand, Operation Paperclip, Biproduct at The Middle East Down. Doors at 5 PM.
November 11, 2022 (Friday) The Chelsea Curve, Speed Fossil, Canyons & Locust are at Sally O'Brien's FB page
November 11, 2022 (Friday) The Teezers, The JackLights, Phantom Ocean, Key of Caustic at The Jungle
November 11, 2022 (Friday) Ruin the Nite, The Devil's Twins, Erica Mantone at Faces Brewing Co. Malden. FB page.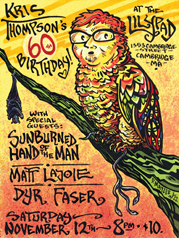 November 11, 2022 (Friday) Hardcore Stadium Presents : Wound Man, Tinnitus, Robert Siege, Hideous, Shawnie Brando, Strictly Hip Hop, Sinister Wand, Operation Paperclip, Biproduct at The Middle East Down
November 12, 2022 (Saturday) Paper Tigers, Groundlift, Lurid Purple Flowers, Stormstress are at The Jungle
November 12, 2022 (Saturday) Dutch Tulips, Bellwire and Jonee Earthquake Band at Faces Brewing Malden
November 12, 2022 (Saturday) Kris Thompson's Birthday! w/ Sunburned Hand of the Man, Matt Lajoie, Dyr Faser at Lilypad, Inman Square Cambridge.
November 12, 2022 (Saturday) SO/CAL Punk Invasion 2022- Black Flag, The Dickies, TSOL, Total Chaos at The Granite State Music Hall Laconia, NH - TIX!
November 13, 2022 (Sunday) Enna King, Blood Drive, Today Is Tomorrow, Bad Idea USA at The Midway for a 3-7PM Matinee FB page
November 14, 2022 (Monday) The Schizophonics, Muck and the Mires, The Chelsea Curve are at Middle East - Upstairs
November 14, 2022 (Monday) Secret Miracle, Constantly Terrified, Goon Platoon and Marc Alan at the silhouette lounge in allston FB page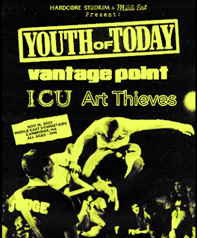 November 16, 2022 (Wednesday) Youth of Today, Art Thieves, ICU at The Middle East Down TIX!!
November 16, 2022 (Wednesday) International Pop Overthrow starts today at the Union Tavern and runs through Sunday 11/19. Go here to see who is paying when
November 17, 2022 (Thursday) The Thigh Scrapers, Mad Painter, Doug MacDonald Band, The Stigmatics at The Middle East Up.
November 18, 2022 (Friday) Walter Sickert & The Army of Broken Toys: 2nd Annual SOMETHING STRANGE a a live music and dance tribute to the Nightmare Before Christmas at the Crystal Ballroom at Somerville Theatre - show is at 8PM. FB page.
November 19, 2022 (Saturday) A Crash Course For The Ravers on WMFO 91.5 FM has Mach Bell as guest. 10AM- 1PM FB page
November 19, 2022 (Saturday) Linnea's Garden, The Lights Out, Emily Grogan Band, Crow Follow at The Jungle
November 19, 2022 (Saturday) Public Speaking, Thalia Zedeck, Luxury Deathtrap, Storax Sedan at O'Briens
November 19, 2022 (Saturday) Men and Volts at The Square Root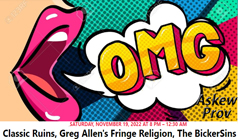 November 19, 2022 (Saturday) Annihil, Velvet Dreaming, Secret Miracle and Bluffs at the Democracy Center in cambridge - 7PM, all ages - no booze/drugs, masks required
November 19, 2022 (Saturday) Classic Ruins, Greg Allen's Fringe Religion, The BickerSins at Alchemy in Provi, RI FB page
November 20, 2022 (Sunday) Local punk legends Garage Dogs join Scream Along with Billy, Anthony Kaczynski (Magnetic Fields) and Thalia Zedek (Come), for a recreation of the Rolling Stones' 1969 masterpiece. Surprise guests and Stones deep-cuts included at no extra cost. Show is at 6PM! At The Rockwell Davis Sq Somerville. FB page.
November 20, 2022 (Sunday) Hardcore Stadium presents - The Trouble at the Middle East Down (alas this show is sold out)
November 25, 2022 (Friday) The Sheila Divine, Valleyheart, The Rupert Selection at the Paradise Facebook event page Tickets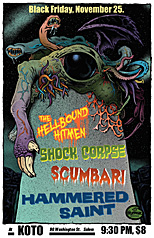 November 25, 2022 (Friday) Hammered Saint, The Hellbound Hitmen, Shock Corpse, Scumbari are at Koto in Salem.
November 25, 2022 (Friday) Tree are at Alchemy in Provi RI - FB page
November 26, 2022 (Saturday) Dinosaur Jr., Guided by Voices and Eugene Mirman are at the House of Blues -FB page
November 28, 2022 (Monday) War On Women, Cancer Bats, Spaced at The Middle East - Upstairs
December 2, 2022 (Friday) California's Decent Criminal comes to Boston joined by locals C.E. Skidmore & the Damn Fine Band and KCUF at Faces Brewing Malden.
December 2 & 3, 2022 (Friday & Saturday) America's Hardcore Fest 2022 Friday December 2 - tons of bands check out the Facebook page for bands, times and weekend pass purchases.
December 3, 2022 (Saturday) Baabes, Sgt. Scag, Threat Level Burgundy at The Midway
December 8, 2022 (Thursday) Anngelle Wood's 11th Annual Spectacular Gift Drive for DCF Wonderfund at Faces- featuring music by Parlour Bells, Gretchen Shae and the Middle Eight, Little Fuss. They are collecting unwrapped gifts for foster families in the Boston area - not just toys, gifts for all ages, infants to 18 year olds. Think books, clothing, art supplies, personal care items, sporting goods, electronics, games, gift cards and more. Come spread holiday cheer! - Here is the FB page.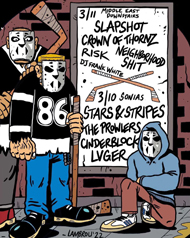 December 9, 2022 (Friday) The McGunks Christmas Party with We Own Land, Grip Bite and hosted by Adam Femino at The News Cafe, Pawtucket, RI. FBpage.
December 9, 2022 (Friday) Zip-Tie Handcuffs, One Fall, Blame It On Whitman, at Faces Brewing in Malden. FB page.
December 9, 2022 (Friday) Jonee Earthquake Xmas Punk Party at The Shaksheen Pub Manchester, NH FB page.
December 10, 2022 (Saturday) New England Punk Rock Flea Market presents our inaugural live event, happening here at the historic Hotel Vernon, located in the vibrant and newly revitalized Kelly Square. Join us for a fun day of vendors and bands, a toy drive, and holiday raffles! 11AM - 9PM Music at 7PM -Music 7PM with Michael Kane (solo), Scare City, Sapling, Memory Lame FB page for vendor info etc
December 10, 2022 (Saturday) Magic Room Rock and Roll Holiday Party! with Diablogato, The Shang Hi Lo, Muck and The Mires, Little Billy Lost - this is an early-ish show- music starts at 7:30PM -FB page.
December 10, 2022 (Saturday) Oneida, Martin Bisi, Thalia Zedek at Lilypad Inman Sq Cambridge 7-10PM show.
December 14, 2022 (Wednesday) Boston Music Awards - FB page.
December 16, 2022 (Friday) A Very FUNdraising XMAS: featuring rock star heroes of the 90's: Buffalo Tom, Mary Lou Lord, The Bags, members of Fuzzy, Merrie Amsterburg, Scruffy The Cat and more- all playing holiday tunes and some of their infectious 90's hits at the Burren Davis Square, Somerville,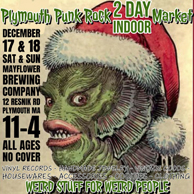 MA. Rock the nostalgia, come by, and donate to a great cause https://abortionfunds.org/ - it's sure to be a seasonal treat! FB page

December 17, 2022 (Saturday) Hardcore Stadium Holiday Celebration with Infest, Siege, Citizens Arrest, Dropdead, F.U.'s, Shark Attack, Intent To Injure, Tree, Firewalker, Peace Test, The Lousy, Tossed Aside, Sinister Wand, Burning Lord - at the Middle East - All Ages, $35 Advance / $30 Day of Show, 3:00 PM Doors
December 17, 2022 (Saturday) SCMF, Dogmatics, Jittery Jack & Amy Griffin at Faces in Malden FB page.
December 17, 2022 (Saturday) Murdoch, Lonely Leesa & The Lost Cowboys, Gene Dante & The Future Starlets at The Middle East - Upstairs - (Doors: 6:00 pm )
December 17, 2022 (Saturday) The Lemonheads are playing the Paradise
December 18, 2022 (Sunday) The Lemonheads are playing a second show the Paradise - Facebook event page
October 11, 2023 (Wednesday) The Mission UK & The Chameleons: Deja Vu Tour 2022 Rescheduled to 2023!!! also on the bill Theatre of Hate
CONTACT US AT....misslynbgn@yahoo.com Send us your gig listings, your anything else ya got!! You want your CD reviewed?? Contact us for that too.
---
---