The BGN News Archive
November 20, 2023
There's been a few shows booked by Bootleg Dan that have got lots of attention. John Keegan was at those shows. We have his report today. The Cocktail Slippers from Norway were all over social media with the run around the area. John saw both shows at the Burren and at Geno's in Portland. John says that Geno's show especially was a killer. They were booked with the Diamond Dogs from Sweden.
Then the Burren had that Voidoid himself Ivan Julian. Then there was one more show to hit - Handsome Dick Manitoba of the Dictators at Sammy's Patio in Revere. Click Here for full report.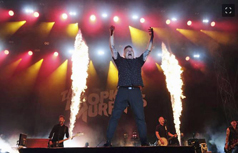 It's November and you know what that means….time to think about St. Patty's Day. The Dropkick Murphys have announced their show schedule for the holiday and you get your ticket now or forget about it.
They play one night 3/14 at the House of Blues and then two nights at the MGM Music Hall 3/15-17. Also on the bill are Pennywise and the Scratch.
On March 16 at the MGM Music Hall they're having an early show with children under 10 to get in free!
Go to the Dropkick Murphys website to get tickets
The Boston Globe had an article on 'house shows' in Allston. They have been around since forever as far as we remember. They are cheap and convenient. They span all types of genres. There are bands that start at house shows and get a following and then that leads to club dates.
One quote that explains things in the article, "Local concerts like these are one reason … young people migrate to Boston. In a city with a lackluster nightlife scene that's financially and logistically inaccessible for many young people, student-run house shows provide a place for twenty-somethings to hang out at a cost far lower than clubs or bars. "
The police crackdown when they can but luckily it's hard to get a handle on these low key places. Here's the article if you can get by the paywall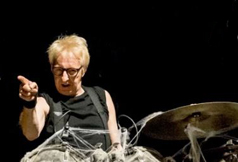 The on again/off again relationship between Rat Scabies and the Damned is on again. Scabies was in the band for the original line up shows in the UK earlier in the year. Now, he's a full on member again and will tour with the band until….its off again, we figure.
Article in the Punk News website.
Captain Sensible said, "The Rat is back.. by immense public demand! But truly, the great man made such an impression on everyone while out on the 'Originals' shows that offering him back his rightful place on the throne behind the kit seems the very obvious way to go."
He also says that they are looking to get Brian James on stage again too.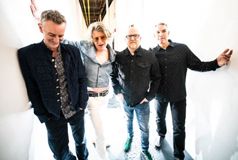 Looking Glass War has some striking moments in their debut EP Where the Neon Mets the Rain. Their interview on the Blood Makes Noise website gives some insight into their songwriting and background. They name some familiar groups as influences then Pete Zeigler gives a list of new unfamiliar groups that require some searching. They were: Affleck's Palace, The Murder Capital, Pastel, Enjoyable Listens, The Violent Hearts, Desperate Journalist and High Vis.
They show themselves to be a very thoughtful group. Their future looks bright.
For a hit of the group take in the lyric video of "I Can Tell By the Cars"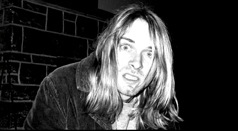 JJ Gonson is still looking for a place to replace Once. She's been doing shows at other venues since Once's closure. She also has her photography career going on. She took some early shots of Nirvana and has notable photos of Elliott Smith. She currently has some of her photos showing at the Event Them Gallery in Medford. That show is going until December 3.
On December 1 she is having a gallery talk with a Q&A. Event page for show.
On JJ's webpage where you can see some photos and get some merch
O Positive will be doing a show at the Paradise on January 19!! Another surprise – on the bill is Three Colors. They were a fave of ours back in the day. The show is a benefit "for a friend" who is in need of help with medical bills for brain cancer! Tickets via Live Nation
Minor Threat will release a three song EP of outtakes from the Out of Step EP (1983). Songs are: "In My Eyes", "Filler", and "Addams Family." It will be released both digital and vinyl on December 1, on Dischord of course. This is good news. Everything they did back then is of importance. Article in Pitchfork
---
VIDEOS......
The Nervous Eaters have another song/video. There's no group local or national that has been as productive as the Eaters this last few years. These videos and songs are coming out like clockwork.
"Talkk" is the first song released that will be on the next album. Like the last one it will be on Little Stephen's Wicked Cool label.
The video plays up the noir elements of the song. It took all these vids for us to really get the import of noir in the Eaters. It's obvious, in say "Last Chance," but it is a presence in a lot of the songs.
A subway begins the video and a train ends it. The almost black and white and then sepia tones add to the effect. The intro is full dramatic chords that set up the song. Then a choppy section makes you feel like you're marching along with the group and that there is a problem that has to be addressed.
Steve Cataldo says on the Big Takeover though the video was premiered, lyrically the theme of the song is in the same vein as "Chad" from the Monsters and Angles album. It's a long lost love that preys on the mind of the singer. Musically we think it's close to "Last Chance" also. This area of songwriting has been fertile ground for Steve Cataldo. It marks territory that they seem to have for their own for the most part.
One thing that has been new with this version of the Nervous Eaters is those background vocals that have been highlights to all the new material. Here there is a robust backing behind the chorus that has the characteristics of a stadium cheer. You can imagine a sea of people joining the group during this. That would be something.
All this new Eaters material in 2023…if this is a dream don't wake us.
Weakened Friends have a new song/video of "Awkward." The video is set in a bedroom decked out like a stage. A place where a person could act it all out. That seems what the song is doing too. …a private personal outpouring, all from the mind games going on in a young infatuated person's mind. Sonia Sturino describes the intent of the song: "I wanted to dive into the feeling of having a big, practically life altering, crush." More about the song from Vanyaland
---
PODCASTS.........
Glam, Glam and more Glam on the Elastic Glam show this week.
New songs we liked: "Hard Time Lady" by the Rich Kid Express on Bandcamp, Hammered Satin is so glammy we can't believe it, see their vid for "Planet Boogie" and Star Crazy whipping up Abba's "SOS".
Add some Nikki and the Corvettes, Girl With a Hawk, Eddie Japan and Suzi Quatro and that's a show!
---
NEW MUSIC/CDs......
Girl With A Hawk will have a five song EP out soon. Meanwhile they've released "Feel Me" which is a song about Justine Covault. The lyrics plainly display the pain of the loss of Justine and that will hit you when you zero in on them.
The music has a psyched out guitar sound with some new wave keyboard work. That mix gives the song its own unique feeling too.
This group has been hard to peg all along because of creativity like this.
The Linnea's Garden full EP Mirrors is now posted on Bandcamp.
Musically we have become comfortable with Linnea's Garden's sound. It's generally alternative/indie but there's dance, punk, psych and glam in there among other things. Herzog ignores boundaries and will add anything and everything in her musical pastiches. She talks about that in the Rock and Roll Fables interview
"Pathological Liar" opens the EP. The line, "I was full of shit when I was 26" seems to be the theme of the song rather, and that's a great line that sums up the thinking of an older person.
In "Big Mirrors" Linnea lets here science knowledge show. There's molecular biology (Thermal convection/Lateral variation/Super rotation) and astronomy (Baryshpere) that she works into the metaphors. It's fun.
It's so wonderful that in "DB3" they have the line, "Bi, straight or gay/He, she or they/It doesn't matter" that is sung so freely and without guile. In a country now where people are so focused on other peoples' lifestyle, having this in the art sphere is the sure sign of changes that already are, and that others will come to realize later. This has been part of Linnea's themes from the beginning.
"Seeds" starts with some mood inducing guitar. It differentiates it from other songs even though it does crank up later.
In the context of the rest of the EP "Comeback" seems to have a larger sweep. It has more characters lined up as the scene unfolds.
Linnea's Garden has fulfilled their expectations since it began as Covid did in 2020. There's been constant new recording and plentiful gigs. In many ways the group defines this time period.
You can also catch an interview with Linnea Herzog at the Rock and Roll Fables website.
She explains how the group has arrived at their own sound. They really do have their own thing going on.
The first Christmas song of the season award goes to ….Geoff Palmer for the digital single "Lonely Christmas Call"/"Cocktails and Candy Canes".
"Lonely Christmas" is one of those sad Christmas songs where a loved one is missing. It has a slight country feeling to it. It actually is a Hank Williams tune. It comes with a video too.
"Cocktails and Candy Canes" is an upbeat song with the long list of things that make Christmas worth celebrating.
Both songs have the season spirit and it did get to us. It's off we go into the Christmas season.
Hammered Saint have two songs up on Bandcamp. "Dirty Work" and "Steal the Show" both have a hard edge to them that we like. Hearing Emily Doran's vocals bring back a lot of memories of seeing her previous band The Gala. She adds so much to a group in both the voice and the performance ends. Also nice to hear guitarist Curt Florczak in action again.
Oh! This is a hot group!!
Rum Bar Records had "Shit Show" from Richie Parsons on their last After School sampler. That was the first song of Parsons new five song EP of new punk material that he has written. Now they have the second song out there as another teaser.
"#1 Punk" is too delicious. Richie rags on the punks who won't give it up. They "dress like it's 1977/ Their leather jacket doesn't zip/They don't give a shit." Joe Queer was involved in this project and "#1 Punk" sounds like the Queers a bit. There a five note Buzzcock like guitar line. It's funny and yes it's all very punky.
Oh man, do we love this!! "Aeroplane Driver" by Shiverlane sounds like a theme song to a Saturday morning show in our dreams.
That descending bass line is a killer. Then the way the voice comes in, genius. The lyrics: "Aeroplane Driver/Living on jet fuel and steel/He is a fighter/With American Hero appeal" capture that cinematic heroic feeling." Shiverlane gave us shivers here. Where did this whole scenario even come from? Total inspiration.
We have it on our Top Ten Songs
Magic City is a new Boston group. They are introducing themselves with the song "Roadrunner Vs Your Mother".
The group checks off Pixies and Pulp as newer influences, but also goes back further and mentions Beatles and Stones. The group has experienced musicians and you can hear that immediately in the assured playing.
The song has a comfortable pace and a pensive mood right from the get go. That slightly fuzzed guitar at the beginning is an instant hook. The arrangement and playing is all very controlled with no sharp edges.
It's a very appealing mix of elements.
Magic City are playing The Jungle on December 17.
Dream of a Man in a Top Hat have their fifth song out now. These two ex-Native Tongue members still sound cutting edge. "the Bad Side" bubbles and lurches along with some hard guitar crunching with it. This is adventurous music. In an interview the duo mentioned they would like to work with David Lynch and you can hear that exploratory dream vision going on here.
To us the song ends early. We'd like this to go on longer…or more to the point, a whole album of it. This song seems like the beginning of a journey.
---
Here's some good shows coming up .....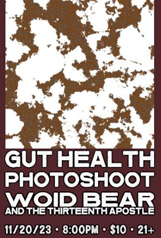 November 20, 2023 (Monday) Gut Health, Photoshoot, Woid Bear at The Silhouette
November 20, 2023 (Wednesday) Robby Roadsteamer, Gretchen Shae, Goon Platoon at The Silhouette
November 24, 2023 (Friday) Third Annual Benefit Coleman/Linnea show is at The C Note in Hull. Please check out the Facebook page. They've got some great bands and sponsors for this show....bands are (so far) Worm, Far Above The Ground, Highwater Haulers, Dogs In the Woods, Gold Hoax, and Mark Fornwald
November 24, 2023 (Friday) Bootleg Dan presents- Kurt Baker Acoustic, Brad Marino, Kris Rodgers, Drew Eckmann Band at Geno's Portland, ME
November 25, 2023 (Saturday) Blame Shifters, Blame It On Whitman, Pink Slip, Bad Idea USA at The Midway
November 25, 2023 (Saturday) Oh the Humanity, Save Ends, Hell Beach, and The Hideout at O'Briens
November 25, 2023 (Saturday) Blood Lightning (Record Release), Kind, Casket Rats, Lipsmear at The Middle east Up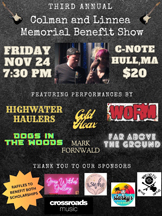 November 25, 2023 (Saturday) Girl With A Hawk, Cold Expectations at The Divine Theater Holyoke, MA
November 26, 2023 (Sunday) The McGunks, Ruffian Dick, Triggered at The Midway for a 3PM mantinee show
November 26, 2023 (Sunday) Rock Garden Records Showcase check out the FB page for the bands playing they include The Fezztones, Crow Follow and Little BIlly Lost FB page.
November 27, 2023 (Monday) Dark Rain, Authentic Dissent, Rawstrum, Gavriloprincip at The Midway
November 27, 2023 (Monday) WARMACHINE, Main Era, Kill Devil Hills at The Silhouette
November 27, 2023 (Monday) Spotlights, Girih, Lesotho at Garage B - Brighton (atmospheric post-metal)
November 30, 2023 (Thursday) Answerman, Field Day, Invisible Rays at Notch Brewing Brighton
December 1, 2 & 3 2023 (Saturday) Triple B Records presents The FINAL America's Hardcore Fest with Negative Approach, Slapshot, Mindforce, Gridiron, Fury, Shipwreck, Spy, COA, Restraining Order, Buried Alive, Adrienne, Best Wishes, C4, Combust, Missing Link, Wild Side, Wreckage, Vantage Point, and more TBA.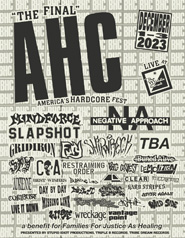 December 2, 2023 (Saturday) SMALL MART Holiday Market at the Crystal Ballroom from 11AM - 4PM on Dec 2nd for a curated market featuring 40+ of all our favorite local artisans, vintage, makers and more! FB Page - and RSVP on Eventbrite here ... (tickets not needed for entry)
December 2, 2023 (Saturday) The Hammer Party, Black Helicopter, Spiller, George James T Maze at The Midway
December 2, 2023 (Saturday) The Swelltune Records Holiday Shindig with the Rock-A-Sonics! - 8pm All Ages Faces Malden
December 2, 2023 (Saturday) Buffalo Tom at The Paradise
December 2, 2023 (Saturday) Hammered Saint at Parkside Lounge NYC
December 3, 2023 (Sunday) The Hassle Christmas Flea and Art Market is at the Cambridge Community Center (on Callender St off Western Ave). Facebook page.
December 3, 2023 (Sunday) Triple B Records Presents : Americas Hardcore Fest Day 2 with Negative Approach, Slapshot, Spy, Restraining Order, Wild Side, Grand Scheme, C4, Vantage Point, All Ages, $30 Advance / $35 Day of Show, 5pm Middle East Down
December 3, 2023 (Sunday) The Chelsea Curve, State of the Union, DJ Sherman at The Worthen Attic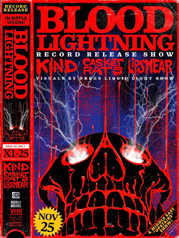 December 7, 2023 (Thursday) Ue At The Buoy, Stop Calling Me Frank, The Gypsy Moths at Notch Brewery Brighton 7-10PM. FB page
December 8, 2023 (Friday) Heavy Holiday Party at New Alliance Studios - Rong and Miracle Blood will be playing...7-11PM check the FB page for updates on the artists showing
December 8, 2023 (Friday) Girl With A Hawk CD Release Party, Cold Expectations, USM, at The Burren
December 8, 2023 (Friday) AxeMunkee and friends at The Square Root
December 8, 2023 (Friday) Huck 2, Gretchen Shae and The Middle Eight and Key of Caustic at Koto Underground, Salem
December 9, 2023 (Saturday) Video Drop Party with Va Va Voodoos, Connor Storms, Crow Follow at The Square Root
December 10, 2023 (Sunday) Back Porch Carousel rocks The Plough & Stars for the holiday season - 4PM show - FB page.
December 10, 2023 (Sunday) Mad Painter, Church Puppets, Galaxy Cake at The Worthen Attic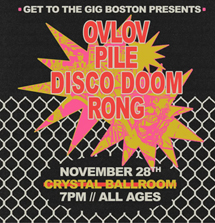 December 14, 2023 (Thursday) Modern Day Idols, Autumn Hollow at Notch Brewing Brighton
December 15, 2023 (Friday) Sheer Terror, Nothing But Enemies, American War Machine, ICU, Rejekts, Clearance at The Middle east Up FB page
December 15, 2023 (Friday) Actor|Observer, Sleep Spirit, girih, Empty Halls at The Shaksheen Pub, Manchester, NH - 7PM doors. FB page.
December 16, 2023 (Saturday) SMART MART Holiday Market Deep Cuts in Medford Square from 12PM - 5PM for a market featuring a curated selection of local artisans, vintage, records sellers, makers and crafters! RSVP on Eventbrite for a free ticket (tickets not needed for entry) and here's the FB page.
December 16, 2023 (Saturday) Light of Day Records and Indie617 present a rockin' night to benefit The Cancer Care Equity Center at Dana-Farber with Muck and the Mires, Vapors of Morphine, The Chelsea Curve, Muzzins, The Ray Liriano Experience, Uncivil Servants and Henry Santoro will be MCing the event! 6pm, at the Crystal Ballroom Tickets start at $25 with various tiers of support. All proceeds go to Dana Farber Cancer Care Equity Center. TIX HERE
December 16, 2023 (Saturday) Massa Nera, Infant Island, New Forms at The Democracy Center - all ages - portion of proceeds will be donated to Youth On Fire Harvard Square.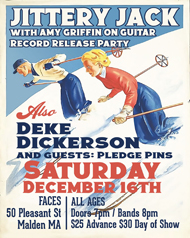 December 16, 2023 (Saturday) Jittery Jack & Amy Griffin Record Release Party with Deke Dickerson, Pledge Pins - 7pm All Ages Faces Malden
December 16, 2023 (Saturday) Abysmal Depths Productions is proud to bring you this Toys For Tots benefit holiday show. Bring a donations of an unwrapped toy to be donated to the Toys For Tots program - Bands: Loser Birds, Rocket Gods, The Woods, D-Coy, Artificial Extinction at Porters Pub in Rockland (South Shore near Brockton) Facebook event page.
December 16, 2023 (Saturday) Mach Bell Experience with Wicked Theory - 7pm Magic Room, 83 Morse Rd. Bldg. #5, Norwood MA TIX HERE
December 17, 2023 (Sunday) Slimedog's Drag Puppet Punk Xmas Show (with poetry & free pizza)! Featuring... Kermit's Finger, Grimly Pleased, The Jacklights, Charmed & Strange, The Instamatics, plus poetry from Jake Tringali! FB page
December 17, 2023 (Sunday) Stars Like Ours, The Magic City, Roxy And The Crisis at The Jungle - Early show 4-7PM
December 18, 2023 (Monday) Johnnie & The Foodmasters, The Wailin Milfs, Delons at The Silhouette
December 23, 2023 (Saturday) LAST MINUTE GIFT SHOPPING at Small Mart Holiday Market at The Crystal Ballroom at Somerville Theatre 11-4 - The vendors have been carefully chosen and their goods are unique and small batch......FB page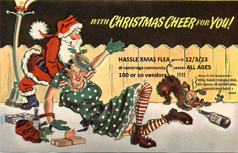 December 27, 2023 (Wednesday) Bike Thrasher, Miracle Blood, Neck Dive at Faces Malden
December 28, 2023 (Thursday) Shiverlane and Freeloader at Notch Brewing Brighton
December 30, 2023 (Saturday) The Manglers at The Square Root
January 8, 2023 (Monday) OrangePeelMystic, Scove Cone, Blazers Over Turtlenecks at The Silhouette
January 11, 2023 (Thursday) Punk Rock Karaoke with members of (Bad Religion, Circle Jerks The Dickies, Pennywise, Goldfinger) Pick a song, they give you the lyrics.They call your name and voila! you are the singer in a punk rock band backed by the finest hand picked side men.Simple...there will be a sign up sheet at venue - The Middle East Down. We went to one in 2015 and it was loads of fun!!
January 14, 2023 (Sunday) Chris Brokaw's new band Lupo Sita with Hidden Fountain and Pledge Pins at O'Brien's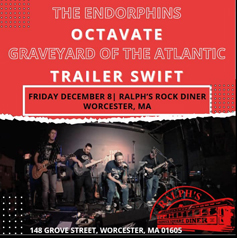 January 26, 2023 (Friday) Hooligan Holiday Night 1 - Suited and Booted with DJ Boss Hooligan, Stress The White Boy, DJ Ruben Doc Marten Soundsystem
January 27, 2023 (Saturday) Hooligan Holiday Night 2 - The Templars, Battle Ruins, Merauder, Violent Way, Powerhouse at The Paradise
February 10, 2023 (Saturday) Gretchen Shae & The Middle Eight, Ex-Hyena, Looking Glass War at Faces Malden
February 10, 2023 (Saturday) The Dreadnoughts, Mickey Rickshaw, The McGunks at Askew in Provi, RI
March 2, 2023 (Saturday) Negative FX, Wrecking Crew. Wound Man, Savage Heads, Please Die, Eye Witness at The Middle East Down - all ages 1PM matinee show
CONTACT US AT....misslynbgn@yahoo.com Send us your gig listings, your anything else you've got!! You want your CD reviewed?? Contact us for that too.
---
---