The BGN News Archive
November 22, 2021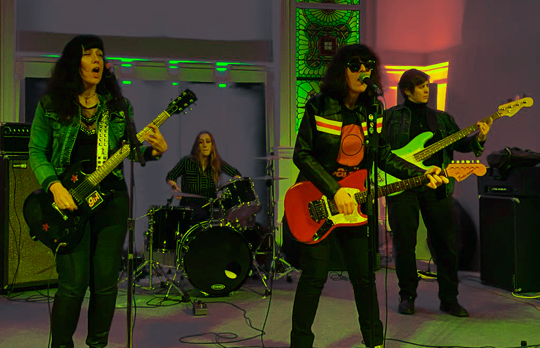 Tiger Bomb at the Sanctuary
Photo:Captain Easychord
Captain Easychord hit the Red on Red Showcase at the Sanctuary in Maynard on Saturday November 13. The Sanctuary is one of the new venues that has popped up after the Covid shutdown. Like the Crystal Ballroom in Davis Square it's a nicer place than we're used to. Easychord tags it as 'enchanting' with its stained glass windows on each side of the stage.
Justine & the Unclean lead the night with Michele Morgan filling in for Charles Hanson. Then it was Girl With a Hawk lead by Linda Viens. They are a newly formed group and we expect to see them gigging more in the future.



Lynda Mandolyn
Photo:Captain Easychord




Justine Covault
Photo:Captain Easychord
Then there were two Maine bands, Tiger Bomb and When Particles Collide. Andrea Gillis Band topped the night with their soulful songs.
You can read all of Captain Easychord's review and see all his photos by clicking the photo link below.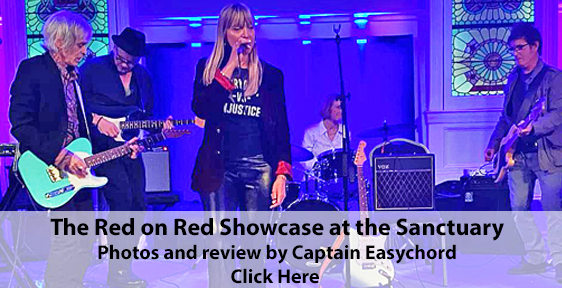 Moving Targets are ramping up to do their next album now titled In the Dust. Their last two albums Wires and Humbucker were superb.
You can support them and be one of the first to get the next album by pledging on their Kickstarter page.
They will start recording in March of 1922 in Baltimore.
Here's a minute video from Brian Coleman of Willie Loco Alexander giving a few thoughts on creating music.
---
VIDEOS.....
We talk about the new album by Danny Laj & the Looks below, but the Rum Bar group also has a video for the song "Left Right to One". It's a band romance and they are on the road!
Once Virtual Venue had a few videos this week:
TIFFY, who we think is one of the better new indie acts out there, are at the 1 hour 34 minute mark on video one above. They get more energetic on their last song, the seasonally appropriate "Thanksgiving Part II".
This video is from a California band called Joker's Hand. It's a song titled "Goth Girlfriend" ... that makes a good video. It's about bringing a goth girlfriend home to the conservative household.
Tommy White of Unnatural Axe posted Chapter 7 in his ongoing documentary on Zoom. This episode is about 'guest' children on the show.
---
RADIO......
Ron on the Late Risers Club (MBR) this week played a funny ass punk tune. It was going to come sooner or later but Monsters from Switzerland were the first to have an anti-Electric Bike song, and it's a good one. The lyrics: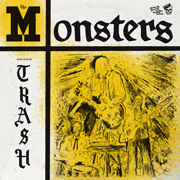 "Early Morning Sunday Roast/Run me over knocked me out/
Woke up in Emergency/Fractured bones and no regret.
All frustrated 40+/Ugly kids and stupid dog/
Sour Love and zero Sex/Ruthless Brain Stupid Ass."
The last half of the song just goes "Electro Bike Asshole" over and over.
Even their love song that just repeats "I love you" over and over sounds like they are pissed.
Often the title of the song is also the entire lyrics of the song. Try to get punker than these guys.
---
PODCASTS.........
Blowing Smoke With Twisted Rico gets Mike Skill for an interview. Mike was the bassist/guitarist for the Romantics. They got so much airplay with "What I Think About You". That was a song that everybody with ears loved. The group was inspired by Greg Shaw and his love of garage 45's in the seventies. Also, the J. Giles Band was a model on how to get a career going. He talks a lot about the Detroit music he grew up with.
He has a new album on Bandcamp now
Michael Kane talked about songwriting and his new forthcoming album on The Struggling Artist Spotlight with Trev Allen. Kane also talks about the influence of radio in his younger years.
We're new to this podcast and we see that they also have other interesting episodes in the archive. They have Mark Lind talking about Town Line records , Drew from Diablogato, Aria Rad from Coffin Salesman, and Nicole Tammaro talking about her photography .
---
NEW MUSIC/CDs......
Congrats on Red on Red Records for their one year anniversary. To mark the date Red on Red releases a 17 cut compilation titled Hots.
It's got all the groups and songs that have kept us entertained in this last bleak year of shutdown. In here is Kid Gulliver, The Chelsea Curve, Cold Expectations, The Jacklights, Linnea's Garden, Speedfossil, Devil Love, Andrea Gillis, Justin and the Unclean, The Black Threads, Harrington and Mandolyn and Stupidity.
New material includes the Red on Red theme song, Simone Berk's cover of "Blue Bayou" with her group Sugar Snow, The Black Threads play "No Tell Motel and Speedfossil's "Luckiest Man in the World".
Then there's the long lost Neighborhoods song "Crown Victoria".
You have to hand it to Red on Red Records, with a world-wide pandemic giving them a steady headwind they accomplished so much this last year.
Weakened Friends have an 11 track album titled Quitter out on all platforms this week. They have many fans just waiting for this and they will not be disappointed. They have received attention from critics from the beginning and this album fulfills all those predictions.
It's not just good music, it's also full of life. It feels like every note and word is meaningful. They are living for their music and it's all here in their performance.
They have had a few shows around town already. You can tell the minute they can play live without restraints, they'll be out there.
Rum Bar's Cheep Cassettes new song "She Ain't Nothing Like You" has so many attributes of early seventies rock that we were getting flashbacks. They also have a strong vein of power pop in the song too and that reminds us of the groups on those Yellow Pills compilations. There's an album coming, but for now we just listened to this 12 times.
We know to expect a constant flow from Rum Bar but still how can Danny Laj and the Looks have another album already? It seems like Ten Easy Pieces a 17 track album just came out, now they have RetroSpectacle with 14 songs. What we like about Laj is that he has such a wide range of influences and the ability to color his songs with them at will.
The two songs they have available on Bandcamp, "Left Right To One" and "Sweet Pretender" are ripping good. If the album is at this level it's going to be a killer.
Meanwhile give this two pop rock gems a listen.
Kurt Baker continues his regular release of singles. "Turn It Around" was recorded in Spain. It's more punky sounding compared to his usual power pop material. It's a nice change of pace. Another change up is the psychedelic guitar solo which sounds distorted and backward masked.
Bob Vylan has been making a splash in England for a while now. He's a provocative punker. He's has two songs on Bandcamp in preparation for his next album release.
Just one listen to "Pretty Songs" will give you a heads up on the bomb tossing lyrics of this artist.
Sometimes he raps in some songs which were not big on, but we love the punk material.
---
Here's some good shows coming up .....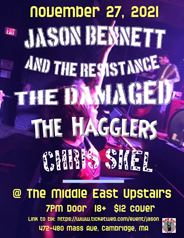 November 27 (Saturday) Jason Bennett & the Resistance, The Damaged, The Hagglers, & Chris Skel at The Middle East
November 27 (Saturday) Mad Painter at the Middle East (Corner) 9:30PM
November 27 (Saturday) The Colman Burns-Takki And Linnea Sturdy Memorial Benefit Show at the C Note in Hull . Featuring Jonee Earthquake Band, Meaghan Casey, Far Above the Ground, Dogs in The Woods, HardWired and The Beach Crawlers The Facebook event page
November 27 (Saturday) Dinosaur Jr. at the House of Blues on Saturday Nov 27. Tix
November 30 (Tuesday) The Labor Pains, Disqualifier, Tensor, Bad Sandy, The Lost Boys at The Midway. FB page
December 3 (Friday) Kurt Baker, The Fatal Flaw, Dutch Tulips at The Jungle
December 3 (Friday) Planet Mercury, Super Pink and Chris Walton at Club Bohemia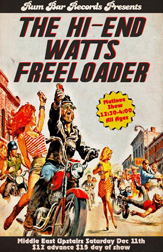 December 4 (Saturday) The Imposers, Witches Tears, Jerry's Got Jokes, Blame It on Whitman, Beyond Agitation - 3PM Matinee Show at The Midway
December 4 (Saturday) Hunter, Melt, Faith and GingerIbex at Club Bohemia
December 5 (Sunday) Benefit for Pine St. Inn with Lenny Lashley's Gang of One, Jesse Ahern, Wicked Whiskey - 3PM Matinee Show at The Midway
December 10 (Friday) Live Skull w/ Thalia Zedek Band at the Midway - night show
December 11 (Saturday) The Hi-End, Tim McCoy's Rock Quartet, Freeloader - Middle East Up - starts at 12:30PM!! FB page.
December 11 (Saturday) Kids Like You & Me Christmas Special featuring Johnnie & The Foodmasters at Club Bohemia
December 11 (Saturday) A Krampus Xmas Celebration! Special Guest Hostess: Kristen Eck of BumbleBee Radio! and Motel Black, Little Billy Lost, Gretchen Shae & the Middle Eight @ KOTO in Salem, MA!- FB page. *You will need a Vax card or proof of a negative test.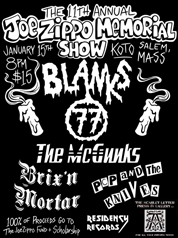 December 11 (Saturday)The Feldons with Tiger Bomb & The Chelsea Curve at Sun Tkiki Studios Portland, ME FB page.
December 12 (Sunday) Thrash 'n Bang Christmas Party/ 10th Anniversary Party with Stop Calling Me Frank!, Baabes, Lewd, Kermit's Finger, The Grommets - At the Midway - Matinee show - 3pm to 7pm. ....and ...FREE pizza! Facebook event page
December 17 (Friday) Diablogato, The Devils Twin,s Ruin The Nite at Opus Underground / Salem.
December 18 (Saturday) Koto's Killer Kristmas Party with Marianne Toilet and the Runs, Fog Wizard, Dust Prophet at Koto Salem.
January 14 (Friday) Hixx, Bunch of Jerks, Highland Air Force at Club Bohemia.
January 15 (Saturday) 11th Annual Joe Zippo Kelley Memorial Show with Blanks77, Brixn'Mortar, The McGunks, PCP & The Knives at Koto Salem - FB page.
January 22 (Saturday) Razors in the Night, Tijuana Sweetheart (originally known as Vagiant), Sky Tigers and Nothing But Enemies at Sonia Facebook event page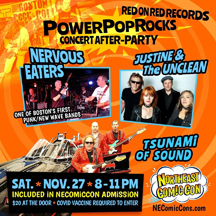 March 13, 2022 (Tuesday) Reigning Sound at the Sinclair Tickets: https://www.axs.com/events/402182/reigning-sound-tickets
March 20, 2022 (Sunday) Henry Rollins at The Wilbur for his Good To See You tour. Tickets here https://thewilbur.com/artist/henry-rollins/
March 22, 2022 (Sunday) Henry Rollins: Good To See You 2022 at the Met in Pawtucket, RI FB page
March 31, 2022 (Thursday) The Parquet Courts are at the Royale. Tickets are here
April 22, 2022 (Thursday) Circle Jerks at the Paradise
CONTACT US AT....misslynbgn@yahoo.com Send us your gig listings, your anything else ya got!! You want your CD reviewed?? Contact us for that too.
---
---