Thundertrain Returns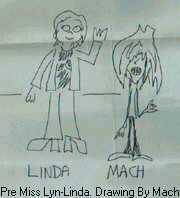 Thundertrain and I go way back…way, WAY back. Mach Bell and I come from the same hometown of Holliston, MA…and it's embarrassing but…I can remember me and Mach hanging out with our pal Claire in her parent's barn listening to the NEW Traffic album!! Whew, that's WAY back!!
I remember hearing about this Mach bell…a freak, a cool guy…he went to an alternative high school….he was into T. Rex. I was thrilled to finally meet and become friends with him.
I remember one of the first parties I went to at his parents' house (while they were away of course) he was bopping around, big blonde mop flopping and wearing red corduroy bell bottoms with little black musical notes on them! He did not let me down, Mach was always way cool!
I remember Mach rounding up the cast of characters who would later be known as Thundertrain. I immediately developed a gigantic crush on super sexy Steven Silva, as did just about every other girl around! What made Steven so super sexy was he was hot AND he was SMART!! Then when I got to hear his screaming guitar work I was even deeper in LUV!! Rick and Gene, the Provost Brothers, were great guys! Bass player Rick was huge, like 6'4" or something , always smiling and full of enthusiasm and one of the nicest guys you could ever, ever meet! Gene was kinda quiet, determined but super friendly like his brother. Drummer Bobby Edwards was quiet but in a different way…like he was holding back a hurricane. But man could he play the drums!! Arms flailing all over his huge drum set!
I remember them all in my apartment on Beacon Hill as we sent time discussing the name Thundertrain …".it's too heavy", "it's too meta", it's too this, that or the other thing. Then one of the guys said…we will just become Thundertrain and people won't even be thinking about what the words mean…they'll just mean US and our sound. I thought that was brilliant! And it is just what happened.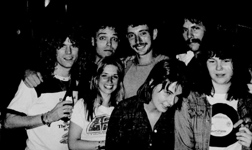 Back row:Mach, Kenne H., Jonathan Richman, and Asa Brebner. Front row:Anne Marie Martins, ??, and Melissa.
Photo By Miss Lyn

Thundertrain fit into a strange niche in Boston. They were completely accepted into the Rat/Club/Cantone's scene but were more glam, more heavy metal (in fact I used to sew some awesome glam threads for Mach! I was the official band seamstress!)…sort of like Reddy Teddy only heavier. You have to understand the mid-70's, we were "in transition" so to speak.
We had been into whatever was alternative and at that time it was Bowie, The Dolls, Reddy Teddy and The Harlots of 42nd Street….then the "punk" sensibility was being hatched with the like of The Real Kids, The Dead Boys, Patti Smith and The Ramones…the idea of mohawks and safety pins wasn't part of the American punk scene at all…in fact it wasn't heard of yet in the early days. So, Thundertrain was accepted into the fold but were rockin' out in the 'burbs to young girls and frustrated boys…and they were quite successful at straddling that line!!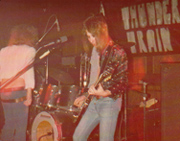 Thundertrain were an important part of the Boston scene in the mid to late 70's. They were a powerful band and made powerful music that was performed on the edge! They were a force to be reckoned with and the scene would not have been the same without them! I am thrilled to be able to see them reunite and blow us all away again!!!
It was definatly time for an update from Mach, so I got him to answer a few questions. As if that would be a hard thing.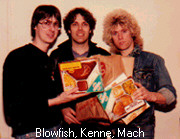 MISS LYN: Is it true that THUNDERTRAIN is getting back together?
MACH: Yeah!!... We're gonna give it another shot! Back when the 70's were drawing to a close, I seem to recall that this mob of confused villagers, many brandishing torches, chased Thundertrain out of town. I think that, perhaps, we were ahead of our time. But it looks like the coast is finally clear - so we are launching a CounterAttack. It's 25 years later, but the correct time for Thundertrain may still not have arrived...so don't miss this reunion week.
MISS LYN: How is the TEENAGE SUICIDE reissue doing?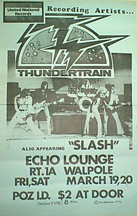 MACH: Not too shabby, thanks. This new Gulcher Records Thundertrain reissue CD has been written up in the Boston Groupie News & Rolling Stone Magazine. So, between those two widely read publications I think we have the universe pretty well covered. The disc has also been selling in Japan and it is being re-issued in Europe on Rave Up Records later this year.
MISS LYN: Do the Thundertrain guys still live around here? What are they all doing?
MACH: Everyone bounces around. Our mysterious lead guitarist, Steven Silva, moved out to Hollywood. He got lost in the porn biz for about 15 years.
MISS LYN: Oh yeah, that seems just about right for Steven!!!
MACH: Bassman Ric Provost moved down to Florida. Our drummer, Bobby Edwards is out to sea. He works on a cruise ship in the Gulf of Mexico somewhere. I guess Cool Gene Provost just bought a pad down on the Gulf coast too. He is still in the money biz. Banking or something like that. Steven moved to Ft. Myers recently. He & Ric are currently gigging 6 nights a week with Skunk Monkey down there. I am the last holdout up here in the Bay State.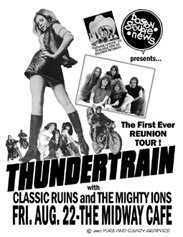 MISS LYN: Any special plans for the upcoming Thundertrain Reunion Week?
MACH: Oh yeah. I am hiring some extra security. I am very nervous about being in the same room with my lead guitarist again.
MISS LYN: Where and when will Thundertrain be playing?
MACH: We plan to open the tour on Tues. Aug 19, 2003 at the Lucky Dog Music Hall in Worcester. Looks like our superfreaky sideshow will set up tent in Attleboro, Somerville, Cambridge, JP & Holliston. You can see the latest details at this link

We will be on exhibit at the Midway Cafe in Jamaica Plain with the Classic Ruins & Mighty Ions on Friday Aug. 22. I expect to see you and Blowie there too!

MISS LYN: Well it's a BGN nite! We wouldn't miss it Mach! Have fun!!

AND HERE ARE SOME RECENT REVIEWS OF THAT TEENAGE SUICIDE RE ISSUE:

NORTHEAST PERFORMER MAGAZINE - AUG 03

TEENAGE SUICIDE never bores. It's rock and roll of a sort I fear we'll never see again in any recognizable form. Sheer hedonism, mixed with an irresistible 4/4 beat and the kind of guitar work one dreams of hearing on popular releases in place of the wire-thin, distortion-laden dreck that serves as "expression" these days. Granted, it may never rise above the beer-chicks mentality lyrically, but, when you've got a voice like Mach Bell's, who cares what you're saying? He was, and probably still is, a singer of remarkable presence and, dare I say it, soul. No Bryan Ferry or Al Green to be sure, but definitely a talent who has been woefully overlooked, just like his band. Here's to you, Bell and Co., the "Bad Boys from New York City," the Harley Davidson of Rock and Roll. (Gulcher Records) - Jesse Fisk Cravens

ROLLING STONE MAGAZINE - JULY 03

Crank up the live I GOTTA ROCK from September '76, to hear how THUNDERTRAIN were the G n' R of their town and day. ...bang your head now to this raw parent of Appetite For Destruction. - David Fricke

Go to the review of the Thundertrain Reunion Shows..
CLICK HERE
---
home | interviews | photos | features |BGN issue list | reviews
links | contact us

Copyright © 2003 Paul Lovell. All rights reserved.