Wednesday Night Clubbing
The LRC Summer Party and Sonny Vincent
The Middlesex and Radio
July 31, 2013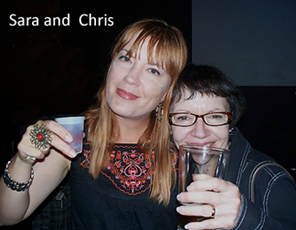 This week in rock started early on Wednesday with the Late Risers Club Summer Party. Last year's LRC party was multi-floored, multi-band extravaganza. This year the idea was a low key and more social affair. All was cooked up by Joanie Lindstrom who's an expert on these things at this point. This year the party was at the Middlesex at 315 Mass Ave appropriately close to MIT. The club has very little signage and is minimalistic on the inside with a bar some seats and a DJ corner all sitting in a very square room.
The crowd was still gathering when they started the Punk Rock Trivia part of the night. It turned out to be loads of fun with the BGN team scoring in the lower end of the rankings. Joanie came up with the questions that some claimed were too hard but I thought were a good range of easy to very hard. It made it fun and there were some real experts in this group. It's no surprise that Eric Law's group The 11:15's won! The free NOTCH beer did not seem to dull any minds either.
By the end of the trivia the room was pretty full with the WMBR faithful. We had got there just before 8pm and now our minds were on a bar hop. At Radio there was a Sonny Vincent gig. He's been in town a few times. Last time at PA's he was pretty great and had a powerhouse backing band so we were big on seeing him.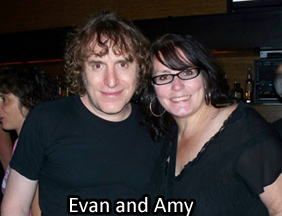 We head over to Radio and caught the last few songs of the Classic Ruins. Always a pleasure to see these guys. We've seen them a million times and hope to see them a million more. Never ever do we tire of the songs or the performances. They were in good form with Frank playing his long time Les Paul Jr. which many of the songs were born on.
We always go to Radio down with trepidation. That room can be like a circle of hell and it was this night. The heat builds up down there and when you add some basement humidity and no AC, you end up sweating like a pig. On top of that Sonny was late. We waited. We sweated. We thought of leaving. In the end we stayed and Sonny showed up and gave a great set. Turns out Sonny likes to sit by himself, pre-gig, and go over his guitar parts and the set in his head. It must be the secret coz these guys were powerful as hell!
People all remember the drummer from the Sonny Vincent show at PA's last year. His name is Luis Herrera, and he is nothing short of amazing. He's a smashing basher with endless energy. He seems like he doesn't want to stop when the song does. It's as if the songs can't contain him. And that's the way with the whole band; they put out maximum energy and enthusiasm. Matt Gabs of The Biters slices out a razor sharp sound on his guitar and TV's Daniel from Bad Sports on bass keeps everything driven to the max! Many times these three guys seem to lurch forward in sync driving the tune home with drama. Great stuff.
In front of all this is Sonny. He's a striking figure in his black on black ensemble and so tall his head is almost touching the ceiling in this place. He never stopped or flagged in the least!
The songs are all straight up rockin' and the volume is UP THERE. There is no concession as far as volume goes with the size of the room (way small).
There is only about 30 people there and that's a shame. It is a Wednesday I guess. Both Joanie and Eric Law have made the jump from the Middlesex and in the crowd is Markey Mussel who were just saw the other week .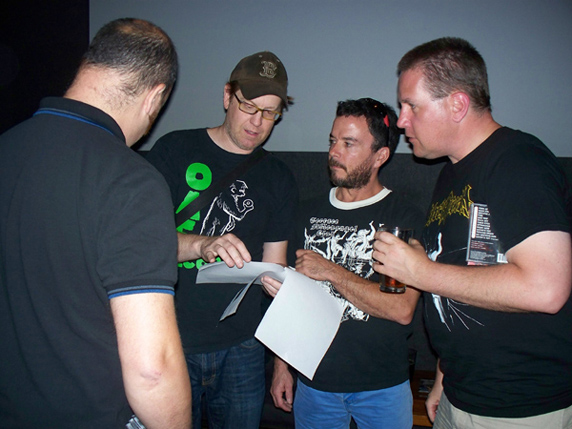 Eric Law and the winning trivia tream called the 11:15's.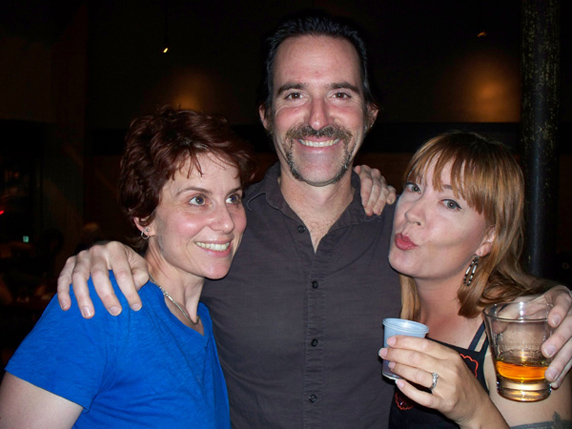 Galen Palmer - John Darga - Sara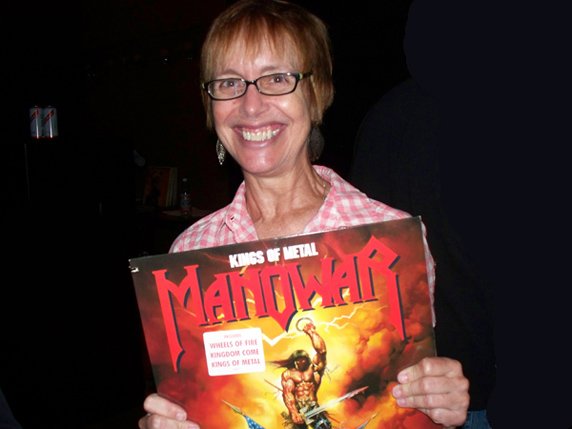 Joanie Lindstom loves the metal.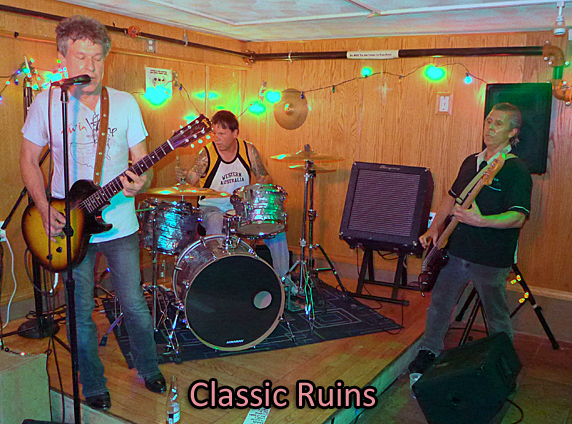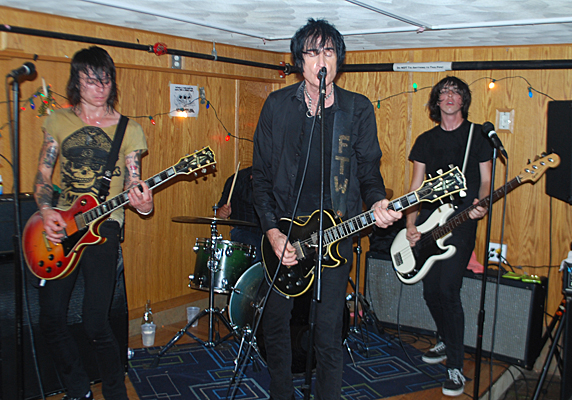 Sonny Vincent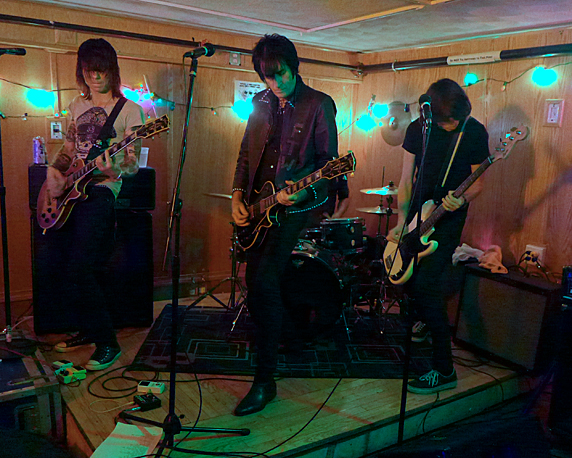 Sonny Vincent