Neats
Church 12/29/2009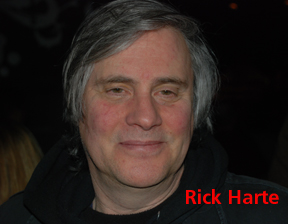 There was plenty of notice about the Neatsí "unpublicized" gig if you were plugged into the right sources. If your friends donít email you about these things then maybe you should be checking the Noise Board with some regularity. Just sayiní.
Here we had the mid-week show; always a difficult animal. We donít like it. We know weíll be yawning and work will suffer the next day. And then there's the all important question: do we take on the drink? On top of it being a Tuesday we had 18 degree temperature and a frickiní insane wind chill factor.
Let's see; an unpublicized show, mid-week in the coldest temperatures, so will people show up? Yup, a full club. Chock up another memorable night for Church.
It wasnít all about the Neats. The actual line up for the night was Satin Kittens , Kenny Chambers and the Stone Strangers, Classic Ruins and Neats.
I missed the Satin Kittens but I was talking to Rick Harte and he said he was recording the group. That puts them on the must see list for the future. Rick said he felt good to be finished with the big projects he had along with The Neats: Mission of Burma "The Definitive Editions" and Birdsongs of The Mesozoic "Dawn Of The Cycads". He also said that he is always recording which makes me feel Iím not getting enough info from his camp. I want to know more. The Ace of Heats website.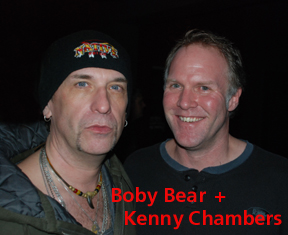 Iíve seen Kenny Chambers a few times Ė here's one. On this night my attention went immediately to the guitarist who was doing some impressive fretwork, not showy but supportive. It turns out he is Bob Metzger, Leonard Cohenís touring guitarist. I talked to Kenny and Boby Bear (who was drumming for Kenny) and they were both excited to be playing with Bob. They had a few stories, one of which was hearing him play Strawberry Fields with guitar voicings for all the orchestral fills.
In any case he certainly helped the No Depression style alt-rock feeling of the songs. Kenny said the set had songs that he has written in the last 5 years. I hope they get in the studio with Bob and some of those songs. That would be a great CD.
What do you get from the Classic Ruins these days? The same things as always; the same stage demeanor, the same songs and the funny comments from Frank Rowe and itís all great, the same as itís always been. This is not faint praise. The Classic Ruins have been together and playing lots of gigs for a long time. There was no 10 or 20 year hiatus for this group.
The Neats didnít say too much on their time on stage but Eric Martin turned to Phil Caruso and reminisced: "it was seeing the Classic Ruins in 1978 that did it for us didnít it?" They were giving the Ruins their due after all this time, very classy for the Neats.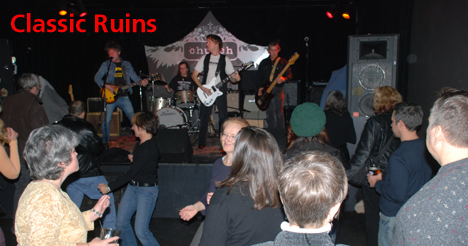 This was a warm up gig for their New Yearís Eve show at the Orpheum which tied up with the release of the Ace of Hearts new compilation CD called The Neats 1981-84 -The Ace of Hearts Years.
It was all a feel good time. They had it all together, no rough edges at all, well rehearsed and sounding great. They ran through a lot of songs and played an hour and a half. They didnít play Six or Do the Things though. Eric Martin is the natural focus. He had the most stage presence of anyone all night. I had forgotten about that voice of his and you can tell he loves to sing. During some downtime for a drumkit repair he sang a slow bluesy tune. It reminded me of Harbour Lights a old tune he used to sing and recorded eventually. I have been derelict in getting out to see Eric Martin and the Illyrians. Iíll rectify that soon.
The crowd was older, no surprise, and soaking it all up. From my inquires some would see them on New Years Eve again and some not. The loss of drummer Terry Hanley many years ago was on my mind. We carry these memories with us to these shows and it makes them bittersweet.
This was a real Christmas time gift, one you had to be there to receive. People spend time and energy to channel their talent into their music and bands and we as the audience benefit. This night filled the ears and the spirit. Sometimes you just DO have to go out on a Tuesday night.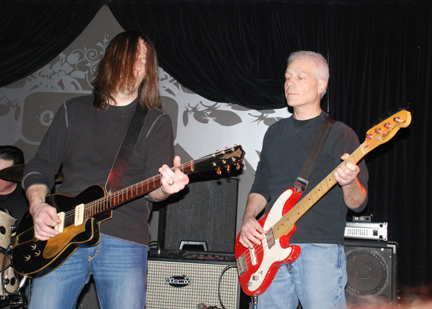 Neats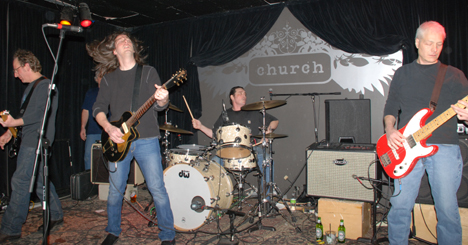 Neats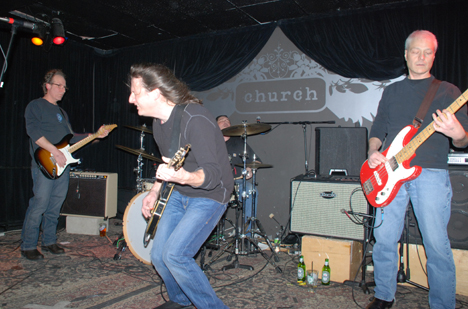 Neats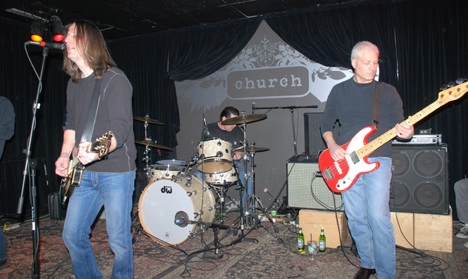 Neats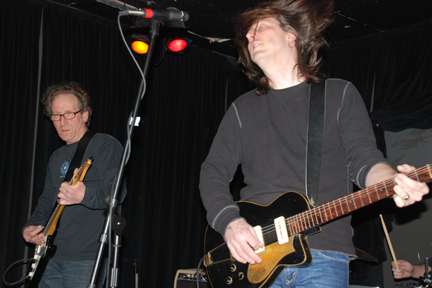 Neats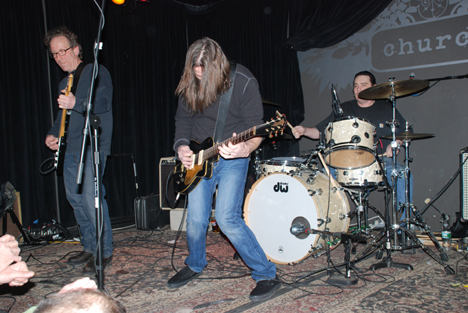 Neats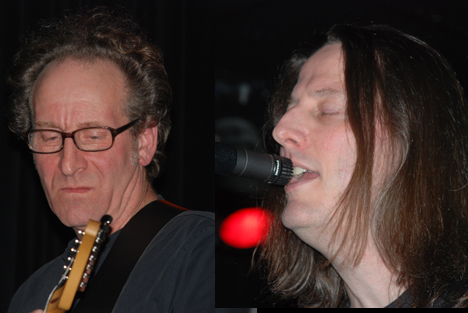 Phil Caruso and Eric Martin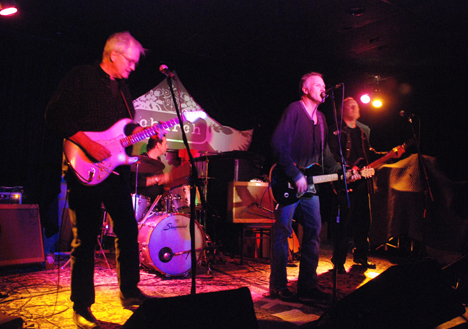 Kenny Chambers and the Stone Strangers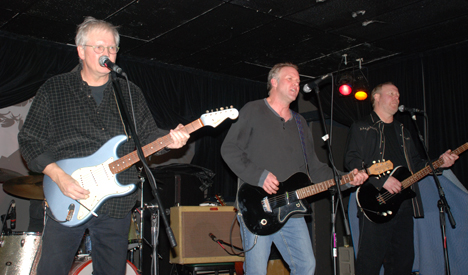 Kenny Chambers and the Stone Strangers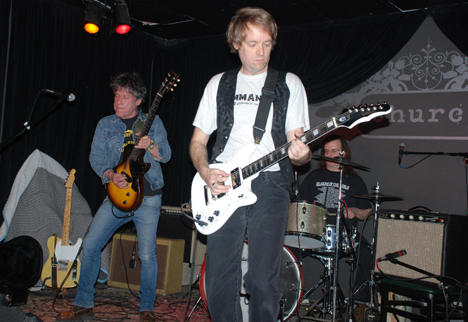 Classic Ruins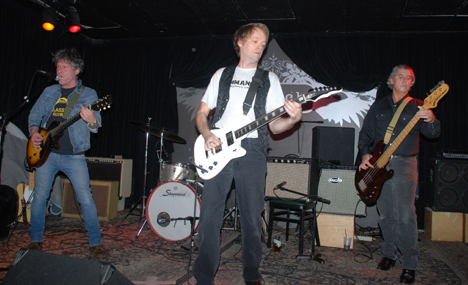 Classic Ruins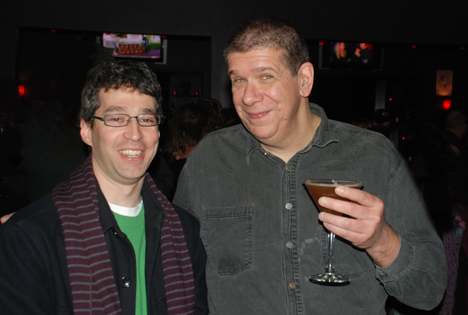 Jon Bernhardt and Brett Milano (with his new 'short' cut).
ClLICK to read the BGN Neats Interview from 1981
Neats' Discography

"Six" - Propeller 1981
The Monkey's Head in the Corner of the Room - Ace of Hearts 1982
Neats - Ace of Hearts - 1983
Crash at Crush - Coyote - Twin/Tone - 1987
Blues End Blue - Coyote - Twin/Tone - 1989
"NEATS" 1981-84 The Ace Of Hearts Years - CD 2009
---
home | interviews | photos | features |BGN issue list | reviews
links | contact us
Copyright © 2010 Paul Lovell. All rights reserved.