The BGN News Archive
April 1, 2019
Wednesday night at Once was part of a new series called Double Down Wednesdays, set up by Tom Baker. This is something to hit! It's in the Once Lounge upstairs, which is very comfortable and DJ Easy Ed spins records between sets. Parking is not a problem over there on a Wednesday either!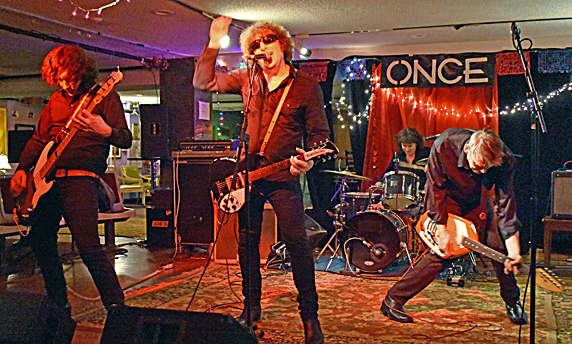 Muck and the Mires
Photo: Blowfish
Muck and the Mires were on first. Fresh back from a stint in Seattle, they did something different. Rather than slam out their regular set, they reached deeper into the catalog and did mostly unfamiliar or less performed songs. It was a rewarding set for Muck and the Mires fans and made the evening feel special. There's no such thing a bad Muck and the Mires song so this material just came across as fresh. It all sounded like deep material from the English Invasion period.
The sound was very balanced and we were able to hear John on the bass better than a usual show where it always seems to get buried. There is a whole listening party right there. You could feel the bass solidly in the middle of everything and pushing it. We could also hear the guitar nice and clear. Pedro had such a great old tone and it looked like there were only two pedals between the guitar and amp. His whammied chords were super Ventures sounding and he was generous dealing them out.
Then there's Linda and Evan, this is such a talented group with superior material. To think you can hear this on a Wednesday night! I mean! Muck are next taking off to Spain for another tour.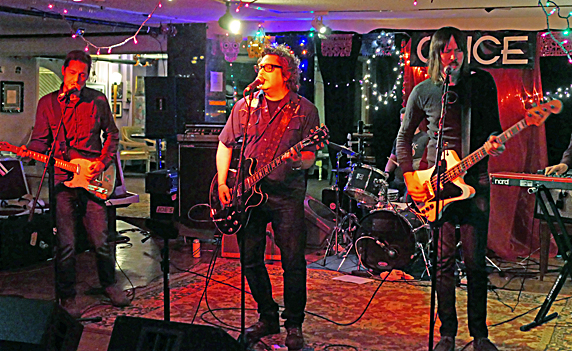 Tom Baker and the Double Downs
Photo: Blowfish
Tom Baker and the Double Downs are the band Tom put together for these nights. They have a keyboard player that someone said played with John Powhida. Those keyboards gave an overall sound like early Elvis Costello and the Attractions. As if to confirm that they did play Elvis' mate Nick Lowe's song Ragin' Eyes. They also did the Lyres' "Help Me, Ann" which made us think of the Lyres gig in this some room in May of 2017. We're overdue for a Lyres show. They did The Byrds "I'll Feel a Whole Lot Better" which had some super trebly high neck hammer-ons that rang like a bell.
Then there were a lot of Tom's well written songs. His voice is a god given work of art, no matter what the material; he has that voice that gives it weight.
There was so much to like: the bands, Easy Ed, the comfy club and the local crowd who appreciated it all. We suggest you hit one of these shows that will be coming up for an easy good feeling night.
It was Saturday, so where were we? At the Midway Matinee show, where else? It's just too good to miss. This show had our faves DNZL playing.
We wanted to catch Dave Tree's band See This World but they moved their set from the third slot to the opening one so we just missed them. We did get to talk to the ever energetic and engaged Dave who had some hot news that we relate in the news section below these band reviews.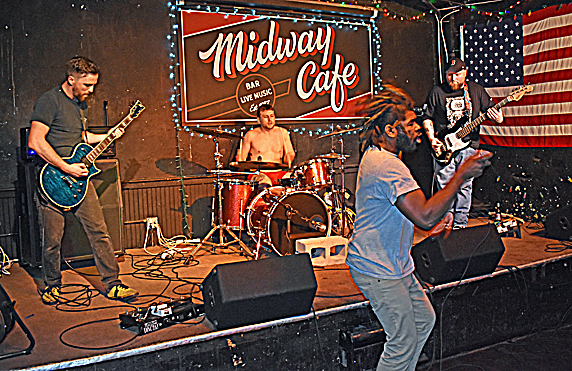 DNZL
Photo: Blowfish
We saw DNZL a month and a half ago and they just keep getting more impressive. We've seen them a half dozen times or more since that initial show at PA's that we caught in June of last year. Even then they had all the elements in place. The concept of song material being drawn from Denzel Washington movies seemed odd but even then the benefits were obvious. Dialog becomes lyrics and that allows singer Mel to become half singer half actor.
On Saturday the band continued to tighten up. This was apparent with the new material especially. Rather than a sheet of sound behind the singing, the arrangements were more particular ... more like a hardcore soundtrack that follows the words and reflect the feelings of the character talking. They now frame the sections where Mel was digging into character emotions. Those places were already riveting listening but were now even more highlighted.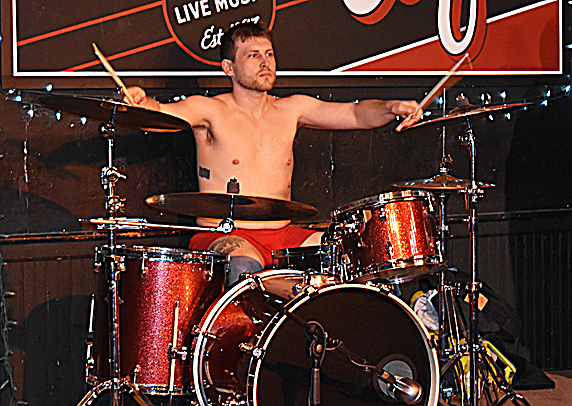 DNZL
Photo: Blowfish
With time the band's overall sound has become big and powerful. They hit hard. John the drummer, who just started playing drums a year ago when the band got together, has honed his raw power and has become controlled. He did a fast strong drum roll on the snare that seemed to last a half a minute. By the end you just couldn't think of anything but that roll. It heightened everything and when it broke he still got a few more strong slams in there for good measure. This guy is a beast!!
We go on about DNZL because we think they are worth much more attention. We will continue to see them as much as we can. You should definitely catch this band!!! It's hard to follow DNZL, even as a listener the set involves you and you're not ready for another band right off.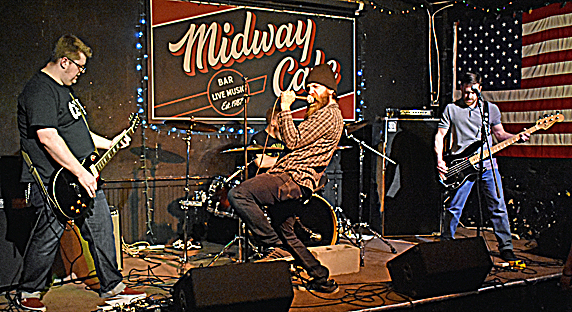 War Graves
Photo: Blowfish
War Graves from Manchester, NH did a good job though. It helped that musically they were in the same ballpark as DNZL. They are hardcore with the same instrumental set up. Kyle, the singer was in screamo mode, just the way we like it. He was on the floor in front of the stage for half the set. We thought there were a lot of good songs that would grow with repeated listenings. The material on their Bandcamp page is like what we heard.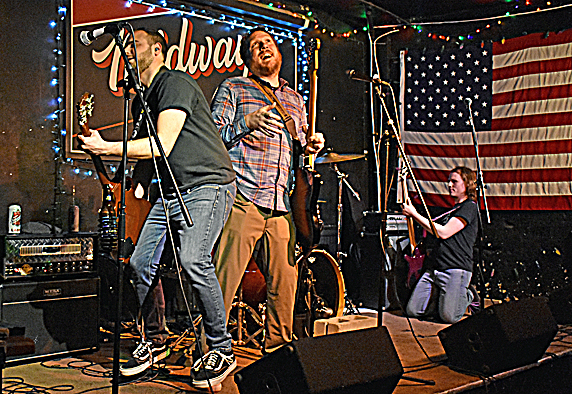 The Runouts
Photo: Blowfish
Last up was The Runouts. They're a local band that have been around a while. Their first album came out in 2015. They were a change from the previous hardcore bands. They have a strong pop element in their song writing. Coupling that with a hard attack, they end up in Buzzcock territory every now and then. Andrew on lead often injects those short riffs that hook your ear. They actually did cover "Ever Fallen In Love" and later did a Swinging Utters cover.
Their two songs "Feculent Creatures" and "Prairie Wolf" were in our Top Ten Songs list page. Skybar on WMFO has played their latest CD Bohemian Catastrophe a lot.
The set was a nice change of pace after the two hardcore bands. Andrew's guitar was at that point where it didn't take much to make it feedback. We love that guitar/amp set up. The only complaint we have with the Runouts is that they don't play as often as we would like. Meanwhile taking a listen to their Bohemian Catastrophe is the best thing you can do for your music loving self right now. Bohemian Catastrophe
Later that night we had to hit Sally O'Brien's for Kim Ackland's Birthday Bash. She actually got a line up of The Plimsouls to play!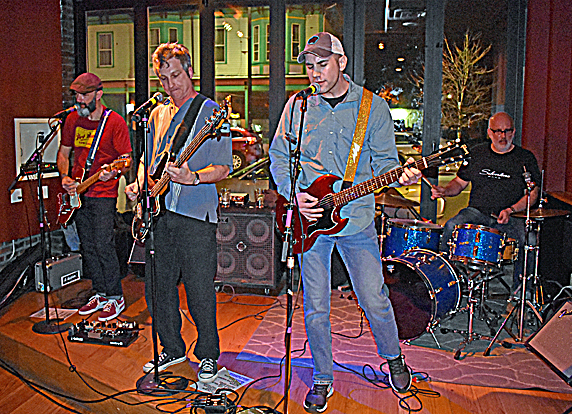 Thee Sonomatics
Photo: Blowfish
We just caught Thee Sonomatics who did a set of largely instrumentals. They sounded like they were in the mold of songs like the Munster's Theme rather than surf music. The songs were simple but with just a little twist in the melody to make them unique. That was all done with a distinctly 60's feel. How does a band get that feel (not just the sound)? Thee Sonomatics seem to have it naturally. They covered "Little Girl" by the Syndicate of Sound which was a delight to hear.
We were getting tired but did a tag team with John Keegan who stayed for the rest of the night with Electrolux and the Plimsouls. He caught all the party people. Click the photo below for all the photos.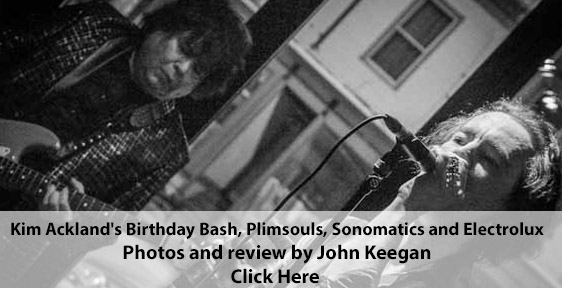 More band photos below the show listings.
---
And in other news.....
Regretfully we have to stop and reflect again as another Boston punk original has died. We recently found out that Ricky Martin passed away on December 23, 2018. Ricky was Third Rail's drummer in its most prominent time, the 1977 era. He later went on to drum for Pastiche. Even though Third Rail gets overlooked Ricky was talked about in the same group as Jeff Wilkinson of the Nervous Eaters, Howie Ferguson of the Real Kids, Paul Murphy of the Lyres and David McLean of the Boom Boom Band as the classic Boston drummers. Here is his obituary.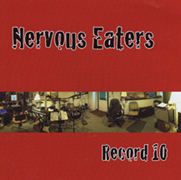 At the Midway show this week Nick Hebditch gave is the new Nervous Eaters cd Record 10. We haven't even listened to it yet!! It was recorded at Wooly Mammoth with David Minehan. There are versions of "Last Chance" and "Girl Next Door". Other songs are songs that have been in their live sets for the last two years. Can't wait to hear. We will get it on our review page as soon as we can.
At the Midway on Saturday we talked to Dave Tree. He had some hot news: New Alliance Studios which was kicked out of the EMF building has found a new home in Union Square Somerville! It's in a brick building on the same side of the street and next Market Basket. That alone was good news but he further outlined what was going on in that building. It has about a dozen rooms. One will be a large art gallery, The Alliance gallery, that Dave will run. Other rooms will have local Somerville artists and artisans selling their stuff. There will be a Podcast studio and New Alliance itself will have a few different operations going on. To think that New Alliance was able to find a space is a relief!
We also got the new Proletariat CD but again haven't had time to dig in but will. It has thirteen cuts. It's produced by Lou Giordano and is on Radiobeat Records.
Then we also get the two latest CD's by Rumbar Records: Dead End City by the Peawees and Extra Credit by Brad Marino. So much good stuff!!
The Prefab Messiahs new psychedelic video (Don't Give Up On) Beautiful Things.
Just because we never can get enough Damned, here's an article from The Guardian where Brian James and David Vanian go over the beginnings of the group and the first recordings. 'It was just chaos every night' - yup we can attest to that!!! That link is to our Damned Interview which definitely was chaos.
Here's an article that details the story of the song "Pet Cemetery" by the Ramones and then goes on to rank the Ramones albums. There are some vids in there too.
---
Here's some good shows coming up this week.....
April 1 (Monday) Gooch Palms, theband Vú, Louzy - at Sonia.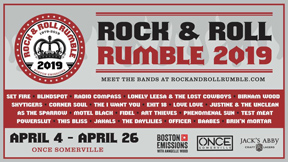 April 1 (Monday) Lenny Lashley, Mike Frazier (AF Records), the Old Edison at Charlie's Kitchen
April 3 (Wednesday) Dan Webb &the Spiders, Late Bloomer, Alright, Save Ends at The Hong Kong
April 5 (Friday) Together on Two, The Gala, Little Billy Lost, Kid Gulliver at Opus Salem
April 6 (Saturday) Roy Sludge Trio, Barley Hoppers, Easy Ed's Record Hop 3-7PM Matinee at The Midway.
April 6 (Saturday) The Inebriations, Bled Sabblin, GarageDogs, Gene Dante & TFS at The Midway.
April 6 (Saturday) When Particlas Collide and Petty Morals at The Plough.
April 7 (Sunday) Tørsö (CA), Low Vision (Japan), Laughing Stock, Crisis Actors at The Greek Club in Union Sq Somerville. 7:30PM
April 7 (Sunday) Punking Out Homelessness 3 homeless benefit with State Of The Union, The Brigands, Charlie Don't Surf, The Only Things at Opus Underground Salem. 2-8PM
And further out we have.....
April 8 (Monday) VHS Slut 1997, Calyx, Oceanator, Moon Room at Charlie's Kitchen
April 10 (Wednesday) Slovenly Recordings presents: Tommy and The Commies, Les Lullies, and The Monsieurs plus DJ Pete Slovenly at The Midway
April 11 (Thursday) The Hideout, The Handsome Scoundrels (AL), CE Skidmore, ITM At The Hong Kong Harvard Sq' 8-Midnight
April 12 (Friday) Low Dose, Leopard Print Taser, Labor Hex at O'Brien's
April 12 (Friday) Venom & Mayhem (Twin sisters from Flight Of Fire, ) unplugged doing originals & covers, Corolla DeVille, Doug MacDonald Band - at Tavern at the End of the World.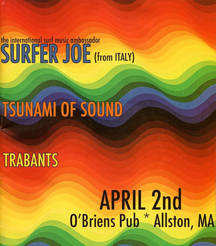 April 12 (Friday) Brad Marino Band Record Release Show! at the Button Factory Stage Portsmouth, NH. Also on the bill Kris Rodgers and The Dirty Gems - FB page.
April 13 (Saturday) The FU's, Armpits, Citizens Against People, Crux Decussata at The Midway 3-7 matinee show
April 13 (Saturday) Classic Ruins at Tavern at the End of the World
April 13 (Saturday) Stop Calling Me Frank, Brad Marino Band, Kris Rodgers at Sally O'Brien's
April 13 (Saturday) Rock n Roll Rumble Prelims #6- Baabes (9PM) Jakals, Set Fire, Birnam Wood at Once Ballroom.
April 13 (Saturday) Single Mothers, Rebuilder, Secret Spirit at The Hong Kong
April 14 (Sunday) Boston Hassle's Black Market Flea 12-6PM FB page for more info
April 14 (Sunday) Kali Masi, Cook Bag, Kato Kaelin at The Hong Kong
April 17 (Wednesday) Weak Days, I Wish I Could Skateboard, Giant In The Lighthouse, Elephants at The Hong Kong Harvard Sq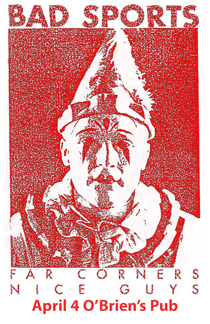 April 19 (Tuesday) Disaster Strikes, Gizzaards, Rooftops, Hairspray Queen, Myocaster Coypus at O'Brien's
April 20 (Saturday) A Crash Course For The Ravers show streams to everyone LIVE Saturdays 1pm to 4pm at and transmits on WMFO 91.5FM Medford. This week we have The Hi-End in to chat, spin tunes, we'll see what else.
April 20 (Saturday) Brave Hands, Notches, Tied to a Bear, The Furniture at O'Brien's
April 20 (Saturday) Junkyard, Derailer, The Hi-End, Demons Alley at Koto in Salem.
April 25 (Thursday) The Proletariat, Moving Targets, The Northern Skulls at Alchemy Provi RI
April 26 (Friday) Michael Kane And The Morning Afters, Cuidado, and Lenny Lashley at the Thirsty First Tavern Lowell.
April 27 (Saturday) A Crash Course For The Ravers has POP GUN in to play their new stuff! 1pm to 4pm at http://www.wmfo.org/popout_player.php?bitrate=256 and transmits on 91.5FM Medford.
April 27 (Saturday) The Proletariat and Moving Targets at Once
April 27 (Saturday) The Stigmatics, Mongorellis, Thee Sonomatics, Groundlift at Club Bohemia
April 27 (Saturday) Nervous Eaters CD Release, Mr Airplane Man, Corolla DeVille at 9 Wallis Beverly.
May 3 (Friday) Barrence Whitfield & The Savages w/ Muck and the Mires at The Middle East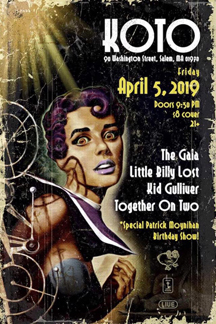 May 3 (Friday) Corolla Deville, Stigmatics and Pop Gun at Jeannie Johnston's Pub JP
May 3 (Friday) Choke Up, Keep Score, Depressor, Matt Murphy at The Hong Kong Harvard Sq
May 3 (Friday) Mad Painter (with Kenne Highland on bass) along with The Fringe, Roll Over White and Shipwrecked at The C Note in Hull.
May 4 (Saturday) It's "LIVE DAY" on WMFO (91.5FM) featuring local acts doing 40 minute live sets all day. Same DJs at their regular times but live music all day. The Cast Irons - 9AM...Anthony Kaczyinski (acoustic) 10AM... Peter Parcek 10:50....Danielle Miraglia w/ Lisa Bastoni 11:45...Lily Black (full band) 12:40PM...61 Ghosts 1:35PM...Will Dailey 2:30...Flight of Fire 3:25....Celebutant (acoustic) 4:25.
May 4 (Saturday) The McGunks, Silver Screams, Revilers, Damnation, Live Nude Girls at The Midway 3-7PM
May 4 (Saturday) Carissa+Cure-Alls, Justine & The Unclean, Tiger Bomb, RunHideFight at Sally OBrien's
May 6 (Monday) Sneeze, Cult Fiction, Toothbrush, Non- at Charlie's Kitchen
May 7 (Tuesday) Dougie Flesh, Coffin Salesman, Ciderdown, Hannah Jay at The Tavern at the End of the World.
May 11 (Saturday) The Knock Ups, Ila Minori, Erel, Chad Gosselin of The Big Lonesome at The Midway night show
May 11 (Saturday) FUs, GLiDER, Classic Ruins, Screw.Cart at KOTO Salem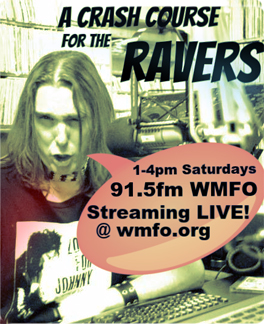 May 11 (Saturday) Cactus Attack, Diablogato, Jittery Jack & Amy Griffin at the Dover Brickhouse Dover NH
May 13 (Monday) Happy Accidents (UK), Greed Island, Birdwatching, Traders at Charlie's Kitchen
May 15 (Wednesday) Jon Snodgrass, Lenny Lashley, Micah Schnabel at O'Brien's Pub
May 17 (Friday) Lily Black, Highway Chapel, Thee Fightin' Fish, The Negans at Club Bohemia.
May 17 (Friday) Parlour Bells, Gene Dante and The Future Starlets, and Smitt E. Smitty & The Feztones @ OPUS Underground in Salem,
May 18 (Saturday) Marko And The Bruisers, Color Killer, Shore City, Punk Band - 3-7 matinee at The Midway
May 20 (Monday) Coffin Salesman, Molly Rhythm, Talk Me Off, Double Star at Charlie's Kitchen
May 24 (Friday) Lo Wreck's birthday with The Downhauls, The Dents, Duck & Cover and Skytigers at Sally O'Brien's
May 27 (Wednesday) Natterers, Yooth Decay, SAP at O'Brien's Pub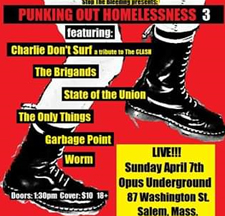 June 7 (Friday) 61 Ghosts, Cal Cali Band at Tavern at the End of the World.
June 15 (Saturday) Thee Fightin' Fish, The Billy Connors Project, A Bunch Of Jerks, Club Linehan A Go Go - 3-7 matinee at The Midway
June 23 (Sunday) Teenage Bottlerocket with Ramona, The Young Rochelles at Once
July 9 (Tuesday) Some Kind Of Nightmare, Losers Circle, Nick Barbarian, And Live Nude Girls at Thirsty First Tavern Lowell.
July 11 (Thursday) 61 Ghosts, Thee Fightin' Fish, Pop Gun at Opus in Salem
CONTACT US AT....misslynbgn@yahoo.com Send us your gig listings, your news and anything else ya got!! You want your CD reviewed?? Contact us for that too.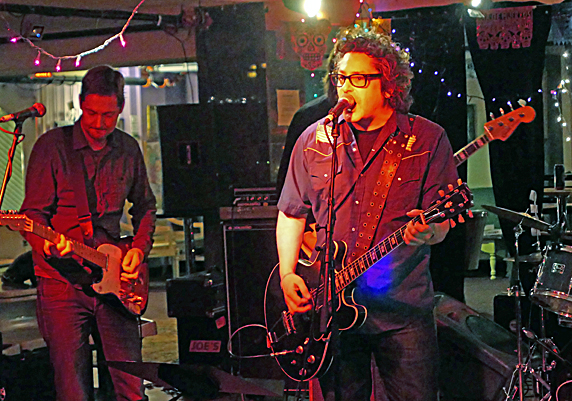 Tom Baker and the Double Downs
Photo: Blowfish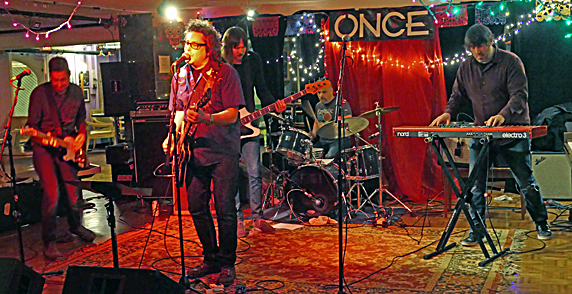 Tom Baker and the Double Downs
Photo: Blowfish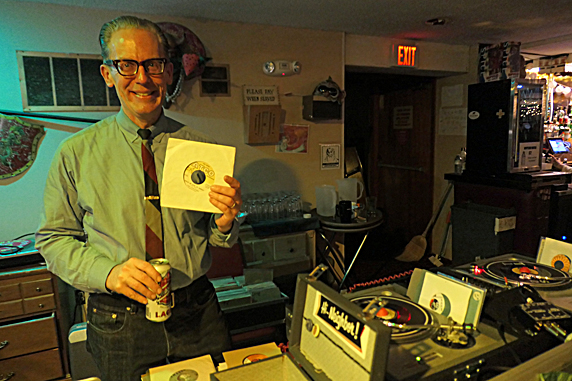 Easy Ed
Photo: Blowfish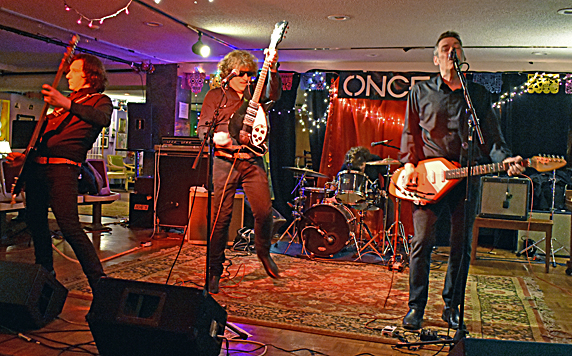 Muck and the Mires
Photo: Blowfish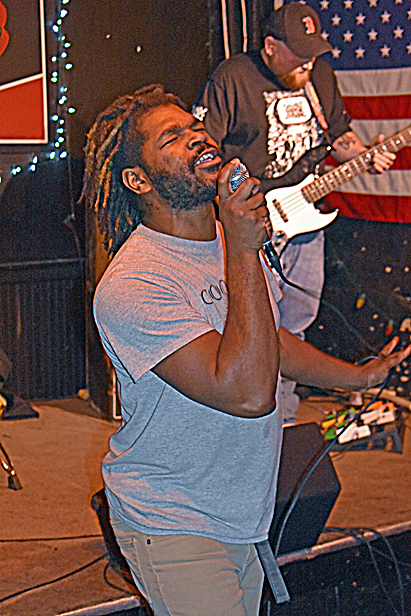 Mel - DNZL
Photo: Blowfish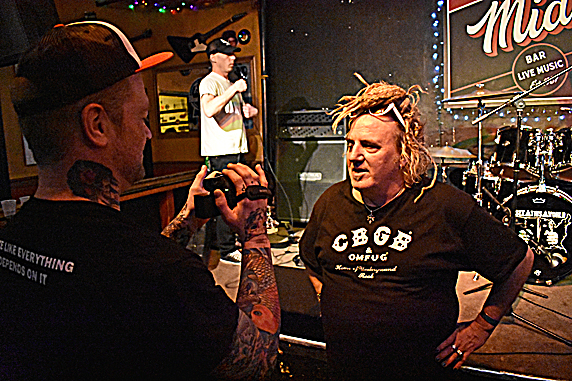 Springa at the Midway
All he does is documented!
Photo: Blowfish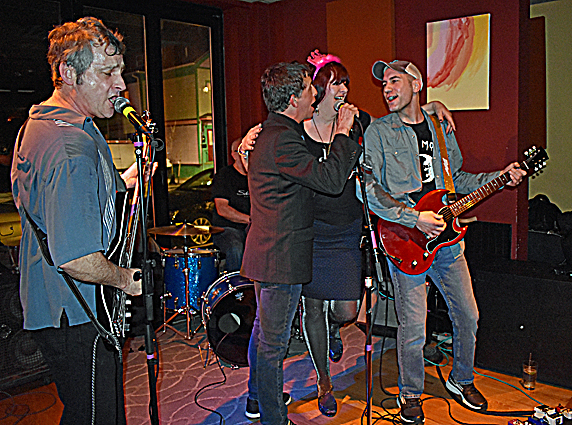 Kim and Cam Ackland and Sonomatics
Photo: Blowfish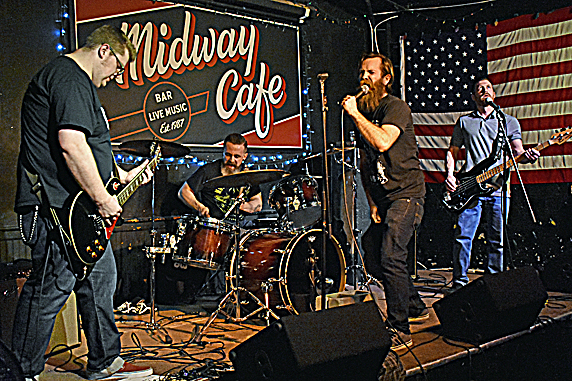 War Graves
Photo: Blowfish