NEWS AND GIG LISTINGS
November 27, 2023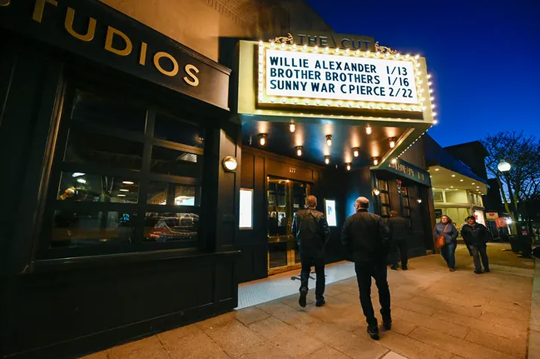 Cut is a new venue in Gloucester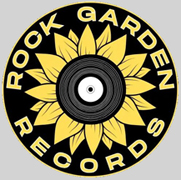 Rock Garden Records had their coming out party at the Brighton Music Hall on Sunday. They got a good publicity in the Boston Herald with an article by Brett Milano
They quickly got a line-up of artists, some of which are getting good airplay: False Positives, Little Billy Lost, Fifth Freedom, Smitt E. Smitty & the Feztones, Crow Follow, Galaxy Cake, Captain Easychord, John Powhida, and Holy Smoke.
The label heads Lisa and Todd Erickson were on Skybar's WMFO Rising show on Tuesday and on Saturday morning's WMFO's Mike on the Mic show had Smitt E. Smitty from the Feztones talking about the show. (Those shows will be archived for a week at the MFO website)
Lisa and Todd were also guests on Blowing Smoke with Twisted Rico(see below)…they had a busy week!
Betsy 'Badges' Sherman used to write film reviews for the Boston Globe and later wrote about film and music in Boston Rock magazine.
This week Betsy is the Featured Writer on the Rock's Back Pages website. They're spotlighting her Ian Dury and New Order reviews. Betsy's Boston Rock articles are now archived on Rock's Back Pages. The website has a lot of resources but you do have to be a subscriber to access. Nice to see Betsy's work living on and getting attention!!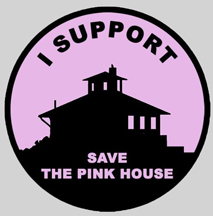 In 1981 Rochelle Joseph was in the Boston Groupie News, in 2023 she makes the front page of the Boston Globe! In 1981 she was in the "Day in the Life of Ralph Fatello of the Vinny Band" and in 11/20/2023 she was in a story on the Pink House in Plum Island.
The Pink House has been a well known and loved landmark and has been part of the Plum Island experience for countless people as well as a focus for artists.
In an ironic twist the US Fish and Wildlife Service who deal with preserving things has bought the house and wants to knock it down. Locals got together and formed Support the Pink House to save the house. Rochelle is the president of that group. To tie it to the Kenmore Square days, Rochelle tags the house as their Citco sign.
To find out more about the house and to support its preservation go to the Support the Pink House website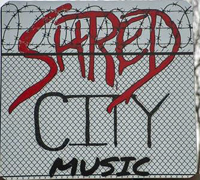 We are sad to hear that Shred City in Wilmington has closed its doors. We interviewed owner Tommy Ashcraft back in January. That seemed like such a creative and uplifting place for Wilmingon. They had many shows there on the stage that looked like the outside of the Rat. Their front door had the Eddie Van Halen Frankenstein guitar pattern on it. We wish Tommy luck in his next project - and we figure he's thinking about that right now.
We used to go crazy for Endation and were sad when they broke up. Well ... They are back together!!
Endation showed us what a two person group could do. The songs had so much depth, the drumming was so extraordinary, the guitar had four strings! We saw them first in 2012 at Radio, in 2014 at the Davis Square Theatre (now the Rockwell), at the Midway
Now they've have Amy Gee on bass and they are promising to be active in 2024. Amy just joined The Daylilies back in November and has been involved in a load of local music projects. We're psyched and you should be too!!
Endation on Bandcamp and Instagram. and here's a great article on Endation in Worcester Magazine.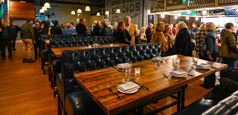 Gloucester now has a new music venue - The Cut. It's got a bar, serves food and will have entertainment. It looks very cool. The opening act is none other than Willie Loco Alexander on Saturday, January 13. and that date also happens to be Willie's birthday!!
Check out photos in a Wicked Local story The Cut's FB page and Insta and The Cut website.
Hey you in a band!! - Submissions to be in the Rock and Roll Rumble 2024 close this Friday December 1. To submit go to the Rock and Roll Rumble website
The Hives made a splash this week by announcing they were going to franchise their band. They say if you want to be a Hives band you can sign up on their website, but we looked and didn't see a sign up link / .
Joke? Real? It's "tongue in cheek" as they say.... Article in Pitchfork
The Louder website wants to shock with their observation that The Stranglers had prog tendencies. We think that's being late to the game. We all knew that The Stranglers had influences older than punk, that separated them from the beginning.
The article cites song examples ... they are good listening though. There's "Toiler On the Sea" and "Walk On By". Can you listen to "Walk On By" and not know they had chops outside of the punk stereotype? Article in Louder
Hey the holiday season is upon us...wanna get in shape, work off all the Thanksgiving pies and look killer for all the parties coming up?? Well get a monthly subscription to Punk Rock Aerobics!! That'll get you there!! A monthly subscription rate has dropped to only $15 a month and you can also pick and choose for $5 a class. Hilken says: "here is a huge library of past 30 minute and 60 minute classes that will kick yer butt...." Check it out on PRA!! And donít forget Hilken vintage shop in JP; 40 South St. Perfect for Holiday Gift giving!!
---
VIDEOS......
The Amplifier Heads have a new album coming. Right now they've released "Something Went Down" a new song/video. Jen D'Angora sings the song and is featured in the video.
It's about a famous UFO sighting in England in 1980. The video goes further back than that and uses loads of cheesy '50s UFO films. They insert Jen into the stream and she hams it up and it's all a lot of fun.
The song has an older flavor too. The beat is a Bo Diddly beat that we haven't heard in a while but are glad to hear again. This is part of a larger project for the stage called They Came to Rock that Sal Baglio wrote songs for. Besides Jen, other vocals on the album will be by Sal Baglio, Dan Kopko, and Barrence Whitfield.
John Powhida would be the first to admit that his music is wide ranging. You just never know what his next song will sound like – or what the subject matter will be either.
His latest released effort is "Idling." It has a smoldering soft soul and jazz gloss to it. The song is about someone who has blown their promising future and is 'idling' and is amazed that their loved ones even care anymore. Touching.
Greg Hawks is in the video. We recognized the opening mural. It's György Kepes' installation "Blue Sky on the Red Line" in the Upper Busway at the Harvard Square bus station.
J Prozac has a new video for "We Scream" from the Prozacs EP of the same title on River Monster Records
The song sounds like a typical Prozac's pop punk rocker. This song however has an edge in the lyrics where it makes a statement on today's society. The fast and tightly wound music is a good fit for the cutting criticism.
The artwork and animation by Felipe Guarche Da Silva is striking. The graphics flicker by extremely fast which adds to the urgency of the message.
Hear and buy the whole EP on Bandcamp The Prozac's have a lot more music out there too
Rebuilder has a video for their song "Hanging On A Telephone, Part II" that incorporates scenes from one of their Sinclair shows (video is above left). You see the audience, the band rehearsing and singer Sal Ellington going down into the audience and giving out hugs. What a wonderful moment that is. The video is well done and we give a shout out to DWJ Creative (Duncan Wilder Johnson) who is responsible for it.
"Hanging On A Telephone, Part II" is the first cut on their Local Support album. Here that is on Bandcamp
Sal Ellington was on the Powered By Rock podcast in late October (see above right). Sal was very open about his personal issues. Many of those are in his songs and he discusses that, such as suicidal feelings. Sal talks about alcohol and its effect with the band and how they had to deal with that. When Sal talks about the band it always comes around to real life issues, or "grown up problems" as they tagged them.
Sal shows how he couches his dark lyrics in a bright sounding song. Punk rock helped him by allowing him to hear others singing of the emotions he was feeling. That gave him the green light to do it himself. Sal also tells you what a "Disco Loadout" is.
Brad Hallen the bass player of the Nervous Eaters has a long history as an artist. He also does some teaching about the history of the bass. Here we have him speaking about four bass players from the sixties that influenced him; James Jamerson, Tommy Cogbill, David Hood and Donald 'Duck' Dunn.
This is a chance to hear and learn how the bass moves and shapes a song. When Brad plays the bass in the video with the song in the background it's like an acoustic X-ray. It's a way to hear a song from the bass player point of view that you just don't get otherwise. The video is instructive, informative and interesting.
There's a lot on Brad's website https://bradhallen.com/index.html to check out.
Hearing The Tearaways do one of their pop tunes brightens up our day. Let it do that for you by taking in this vid of "Easier Done Than Said" from their latest album And For Our Next Trick on Rumbar.
This is the kick we used to get in the sixties listening to the radio. Now you have to go searching to get the fix…and here it is.
---
RADIO......
A song by Sex Mex from San Antonio, TX got our ears on Ron's Monday Late Risers Club show. "Max's Mom" sounds typically punky at the beginning, but they have some synth in the mix which is usually verboten with us. Here it works. The song's lyrics outline a reverse of the "Stacy's Mom" scenario. Here there is inappropriate behavior by the mother and it's not treated in a jokey manner.
There is a riff in the chorus that sounds like the Dictators' "Who Will Save Rock and Roll" but here it's done with the synth.
They have a lot of material posted on Bandcamp if you want to take a big dip into that
To hear Ron's Monday LRC show go to the WMBR archive page hit the LRC show for Monday 20/23.
---
PODCASTS.........
It was Threefer Madness on the Elastic Glam show this week. Three songs by T.Rex to start. That's three times better than ever for us. We were happy to get three songs by Maneskin and Racey to get a better idea of what those groups are about.
Racey covers John Fred and the Texas Playboys' "Judy in Disguise" from 1967. That was a good choice of cover.
It's after Thanksgiving and the Christmas song season. Elastic Glam gets in on it with Sweet doing "Let It Snow", they do up the middle instrumental break with tandem guitars. They close out the show with the Bowie/Crosby duo crooning "Little Drummer Boy".
---
NEW MUSIC/CDs......
Captain Easychord has been a presence on the scene for a few years. He's in a few groups like the Kenne Highland Airforce and Glider. He's always filling in on other groups. When not doing that, he will be at the shows and taking photos and doing some reports for the BGN.
Now, he has a digital single of his own on Rock Garden Records. "Rain On My Parade" is an old style moody ballad. It has falling rain sound effects at the beginning and end. The Captain even describes it as "yacht rock" on the Bandcamp page.
Rock Garden Records have an ambitious schedule of releases coming up. The Captain says he has a 'boatload of incredible tunes" ready himself.
We have featured The Beaters Band from Italy. One of the things they do is to take old songs and punk them up a bit. They have good taste in the covers too.
Now their latest album; Volume Three is being released in the US on Outlook Records. Highlights are "When You Walk In The Room,""Be My Baby" and "I Only Want To Be With You."
Dave Herlihy and Alan Petitti from O Positive have done a version of the Lemon Pipers "Green Tamborine." The arrangement is very close to the original and we don't think that's easy. It's not plain instruments plunking along. There are all sorts of tones to copy. At the same time you can tell it's a new recording because it sounds crisper with better fidelity. O Postive (and Three Colors) are playing the Paradise on January 19. Check the gig listings by scrolling down.
We have featured Surfin' Kitty Xmas, a Canadian collection of Christmas surf tunes, for a few years. Now there's Surfin' Kitty Xmas #4!!
The groups all serve up sterling reverbed surf. They make it all sound new again. It's not surf covers, these are original songs and arrangements of seasonal favorites.
Another positive thing is that ALL the money goes to the Pinetree Stables/Cat Sanctuary in Grand Bahamas which spays, neuters, vets and feeds all the abandoned cats on the island.
We ordered ours, you can order yours at Mark Malibu's Bandcamp page.
This song, "Shut Me Down" by The Lolas is just a fine pop song and performance (that drumming!). Seems like magic to us that some people can get together and knock out something like this. The magic of music!!
The Lolas are from Alabama.
---
Here's some good shows coming up .....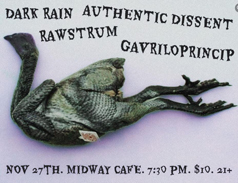 November 27, 2023 (Monday) Dark Rain, Authentic Dissent, Rawstrum, Gavriloprincip at The Midway
November 27, 2023 (Monday) WARMACHINE, Main Era, Kill Devil Hills at The Silhouette
November 27, 2023 (Monday) Spotlights, Girih, Lesotho at Garage B - Brighton (atmospheric post-metal)
November 30, 2023 (Thursday) Answerman, Field Day, Invisible Rays at Notch Brewing Brighton
December 1, 2023 (Friday) JJ Gonson is having a Gallery Talk along side her photo exhibit at Event Them Galley in Meford from 6-9PM.She will talk about her experience shooting bands and her history with touring and photography. Merch will be available, FB page
December 1, 2023 (Friday) The Imposers, WLKRZ, Hambone Skinny are at Koto Salem - show starts at 9PM
December 1, 2 & 3 2023 (Saturday) Triple B Records presents The FINAL America's Hardcore Fest with Negative Approach, Slapshot, Mindforce, Gridiron, Fury, Shipwreck, Spy, COA, Restraining Order, Buried Alive, Adrienne, Best Wishes, C4, Combust, Missing Link, Wild Side, Wreckage, Vantage Point, and more TBA.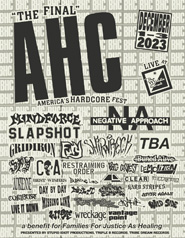 December 2, 2023 (Saturday) SMALL MART Holiday Market at the Crystal Ballroom from 11AM - 4PM on Dec 2nd for a curated market featuring 40+ of all our favorite local artisans, vintage, makers and more! FB Page - and RSVP on Eventbrite here ... (tickets not needed for entry)
December 2, 2023 (Saturday) The Hammer Party, Black Helicopter, Spiller, George James T Maze at The Midway
December 2, 2023 (Saturday) Glowbox's 10th anniversary! along with Tad Overbaugh & the Late Arrivals and Sunshine Riot at The Square Root.
December 2, 2023 (Saturday) The Swelltune Records Holiday Shindig with the Rock-A-Sonics! - 8pm All Ages Faces Malden
December 2, 2023 (Saturday) Buffalo Tom at The Paradise
December 2, 2023 (Saturday) Hammered Saint at Parkside Lounge NYC
December 3, 2023 (Sunday) The Hassle Christmas Flea and Art Market is at the Cambridge Community Center (on Callender St off Western Ave). Facebook page.
December 3, 2023 (Sunday) Triple B Records Presents : Americas Hardcore Fest Day 2 with Negative Approach, Slapshot, Spy, Restraining Order, Wild Side, Grand Scheme, C4, Vantage Point, All Ages, $30 Advance / $35 Day of Show, 5pm Middle East Down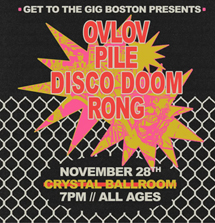 December 3, 2023 (Sunday) The Chelsea Curve, State of the Union, DJ Sherman at The Worthen Attic
December 7, 2023 (Thursday) Ue At The Buoy, Stop Calling Me Frank, The Gypsy Moths at Notch Brewery Brighton 7-10PM. FB page
December 8, 2023 (Friday) Heavy Holiday Party at New Alliance Studios - Rong and Miracle Blood will be playing...7-11PM check the FB page for updates on the artists showing
December 8, 2023 (Friday) Girl With A Hawk CD Release Party, Cold Expectations, USM, at The Burren
December 8, 2023 (Friday) AxeMunkee and friends at The Square Root
December 8, 2023 (Friday) Huck 2, Gretchen Shae and The Middle Eight and Key of Caustic at Koto Underground, Salem
December 9, 2023 (Saturday) Video Drop Party with Va Va Voodoos, Connor Storms, Crow Follow at The Square Root
December 10, 2023 (Sunday) Back Porch Carousel rocks The Plough & Stars for the holiday season - 4PM show - FB page.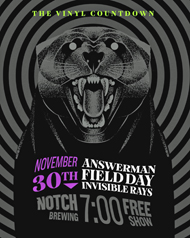 December 10, 2023 (Sunday) Mad Painter, Church Puppets, Galaxy Cake at The Worthen Attic
December 14, 2023 (Thursday) Modern Day Idols, Autumn Hollow at Notch Brewing Brighton
December 15, 2023 (Friday) Sheer Terror, Nothing But Enemies, American War Machine, ICU, Rejekts, Clearance at The Middle east Up FB page
December 15, 2023 (Friday) Actor|Observer, Sleep Spirit, girih, Empty Halls at The Shaksheen Pub, Manchester, NH - 7PM doors. FB page.
December 16, 2023 (Saturday) SMART MART Holiday Market Deep Cuts in Medford Square from 12PM - 5PM for a market featuring a curated selection of local artisans, vintage, records sellers, makers and crafters! RSVP on Eventbrite for a free ticket (tickets not needed for entry) and here's the FB page.
December 16, 2023 (Saturday) Light of Day Records and Indie617 present a rockin' night to benefit The Cancer Care Equity Center at Dana-Farber with Muck and the Mires, Vapors of Morphine, The Chelsea Curve, Muzzins, The Ray Liriano Experience, Uncivil Servants and Henry Santoro will be MCing the event! 6pm, at the Crystal Ballroom Tickets start at $25 with various tiers of support. All proceeds go to Dana Farber Cancer Care Equity Center. TIX HERE
December 16, 2023 (Saturday) Massa Nera, Infant Island, New Forms at The Democracy Center - all ages - portion of proceeds will be donated to Youth On Fire Harvard Square.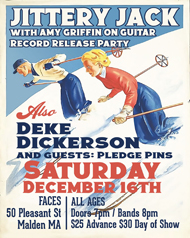 December 16, 2023 (Saturday) Jittery Jack & Amy Griffin Record Release Party with Deke Dickerson, Pledge Pins - 7pm All Ages Faces Malden
December 16, 2023 (Saturday) Abysmal Depths Productions is proud to bring you this Toys For Tots benefit holiday show. Bring a donations of an unwrapped toy to be donated to the Toys For Tots program - Bands: Loser Birds, Rocket Gods, The Woods, D-Coy, Artificial Extinction at Porters Pub in Rockland (South Shore near Brockton) Facebook event page.
December 16, 2023 (Saturday) Mach Bell Experience with Wicked Theory - 7pm Magic Room, 83 Morse Rd. Bldg. #5, Norwood MA TIX HERE
December 17, 2023 (Sunday) Slimedog's Drag Puppet Punk Xmas Show (with poetry & free pizza)! Featuring... Kermit's Finger, Grimly Pleased, The Jacklights, Charmed & Strange, The Instamatics, plus poetry from Jake Tringali! FB page
December 17, 2023 (Sunday) Stars Like Ours, The Magic City, Roxy And The Crisis at The Jungle - Early show 4-7PM
December 18, 2023 (Monday) Johnnie & The Foodmasters, The Wailin Milfs, Delons at The Silhouette
December 23, 2023 (Saturday) LAST MINUTE GIFT SHOPPING at Small Mart Holiday Market at The Crystal Ballroom at Somerville Theatre 11-4 - The vendors have been carefully chosen and their goods are unique and small batch......FB page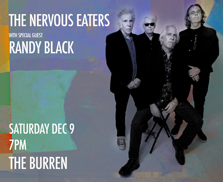 December 27, 2023 (Wednesday) Bike Thrasher, Miracle Blood, Neck Dive at Faces Malden
December 28, 2023 (Thursday) Shiverlane and Freeloader at Notch Brewing Brighton
December 29, 2023 (Friday) Tree, They Will Be Done, Inverter at Alchemy, Provi.
December 30, 2023 (Saturday) The Manglers at The Square Root
January 8, 2023 (Monday) OrangePeelMystic, Scove Cone, Blazers Over Turtlenecks at The Silhouette
January 11, 2023 (Thursday) Punk Rock Karaoke with members of (Bad Religion, Circle Jerks The Dickies, Pennywise, Goldfinger) Pick a song, they give you the lyrics.They call your name and voila! you are the singer in a punk rock band backed by the finest hand picked side men.Simple...there will be a sign up sheet at venue - The Middle East Down. We went to one in 2015 and it was loads of fun!!
January 14, 2023 (Sunday) Chris Brokaw's new band Lupo Sita with Hidden Fountain and Pledge Pins at O'Brien's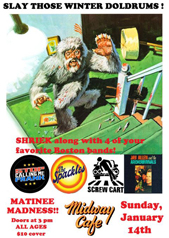 January 26, 2023 (Friday) Hooligan Holiday Night 1 - Suited and Booted with DJ Boss Hooligan, Stress The White Boy, DJ Ruben Doc Marten Soundsystem
January 27, 2023 (Saturday) Hooligan Holiday Night 2 - The Templars, Battle Ruins, Merauder, Violent Way, Powerhouse at The Paradise
February 10, 2023 (Saturday) Gretchen Shae & The Middle Eight, Ex-Hyena, Looking Glass War at Faces Malden
February 10, 2023 (Saturday) The Dreadnoughts, Mickey Rickshaw, The McGunks at Askew in Provi, RI
March 2, 2023 (Saturday) Negative FX, Wrecking Crew. Wound Man, Savage Heads, Please Die, Eye Witness at The Middle East Down - all ages 1PM matinee show
CONTACT US AT....misslynbgn@yahoo.com Send us your gig listings, your anything else you've got!! You want your CD reviewed?? Contact us for that too.
---